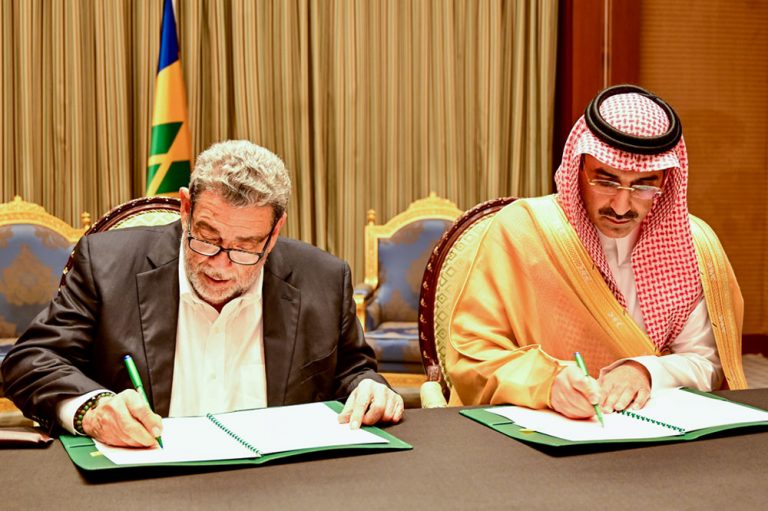 PM Gonsalves leads delegation to Saudi Arabia
A delegation from St Vincent and the Grenadines, led by Prime Minister Dr Ralph Gonsalves, this week travelled to Saudi Arabia for the CARICOM Saudi Arabia Summit and other meetings.
On the first day in Riyadh, the Prime Minister and his delegation held two important meetings which lasted into the night.
According to the Office of the Prime Minister, both meetings were held at the glamorous Ritz Carlton hotel in Riyadh, with the first at 6:00 pm; a meeting with the CEO of the Saudi Fund for Development (SFD), Sultan bin Abdulrahman Al-Marshad.
At this meeting, the Prime Minister and the CEO signed a memorandum of understanding (MOU), which will see SVG benefiting from millions of dollars from the SFD, towards infrastructure projects in the sectors of Housing, Education, Health, Sporting Facilities and Citizen and Community Security, a release from the Office of the Prime Minister said.
The CEO assured the Prime Minister that all the details would be worked out by December 2023.
The next meeting took place at the same venue at 8:00 pm, with the Saudi Minister of Investment Khalid Al-Falih. At this meeting, the Prime Minister made proposals for Saudi investments in three major areas. These are: the new cruise ship port and surroundings development; hotel development in the Grenadines and on the mainland; and the development of the new modern Arnos Vale city.
Minister Khalid Al-Falih said that these are the types of investment opportunities the Saudis are looking for in the Caribbean and expressed interest in Saudi nationals visiting St Vincent and the Grenadines for tourism and leisure.
The Caricom Saudi Arabia Summit took place yesterday, Thursday November 16.
The other members of the delegation are Benarva Browne – Minister of Urban Development; Shackell Bobb Parliamentary-Secretary, Office of the Prime Minister; Angie Williams – Permanent Secretary, Office of the Prime Minister; Cecil Harris – Senior Engineer; Anthony Regisford – Chairman, Invest SVG Board; Janelle Hannaway- Horne ‐ Economist II; Avanell Da Silva – CEO, SVG Tourism Authority; Shevrell McMillan – Press Officer, Office of the Prime Minister; and Sgt. Kendal Horne – Security Officer.
The Prime Minister leaves Saudi Arabia today, Friday for Kuwait for additional meetings.