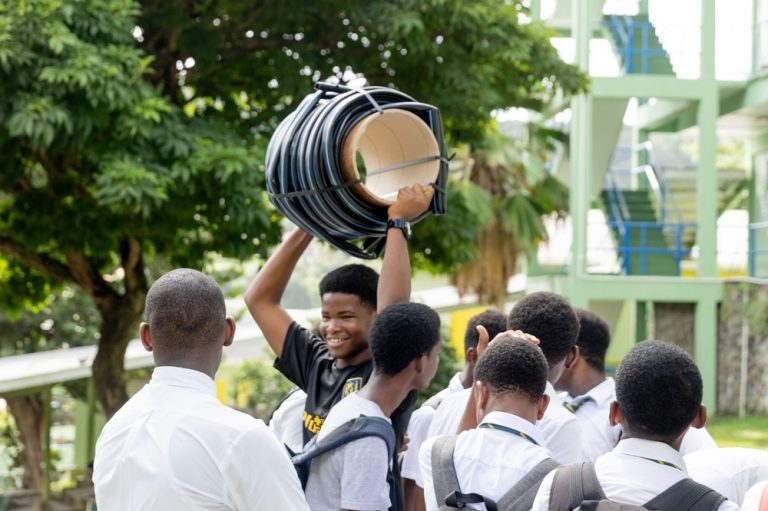 OSV donates equipment to SVGS Agricultural Science programme
One St Vincent Group (OSV) has donated $5000 worth of agricultural equipment to the St Vincent Grammar School (SVGS).
The donation is part of OSV's commitment to supporting education and agriculture, facilitated through the Zero Hunger Trust Fund (ZHTF), a release from OSV said.
The SVGS launched its Agricultural Science Program at the beginning of the 2023 / 2024 school year and recognising the need for essential supplies to kickstart this initiative, OSV stepped in with their donation which includes a state-of-the-art drip line irrigation kit, a plastic mulch wheelbarrow, as well as an assortment of essential tools such as rakes, shovels, pruning shears, and cutlasses.
Zion Cambridge, a Form 4 student at the school, conveyed heartfelt gratitude on behalf of the Agriculture Science students. "We are extremely grateful for the donation of the hand tools as we no longer need to use our hands to plant the crops"
Kenley Ward, Sales Specialist in the Hardware department at OSV, expressed optimism about the contribution's potential impact on the agricultural sector in SVG: "We look forward to this donation developing the potential of the agricultural sector here in St Vincent and the Grenadines."
Brendon Bique, Agricultural Science teacher at the SVGS extended his appreciation to OSV, highlighting the significance of the Drip Line Irrigation System in streamlining the students' morning routines: "The Drip Line Irrigation System will greatly reduce the time for the students in the morning as they would no longer need a hose to water the crops."
OSV has committed to actively participating in the program's ongoing success.
Kimeisha Bailey, Marketing team leader at OSV, expressed enthusiasm about future engagements with the students: "We look forward to checking in on the students to see the progress of their livestock and crop farms. Our team will be returning on occasion to educate the students on technological developments in the field of agriculture through live demonstrations of varying farming equipment available at OSV. Our aim is to increase awareness that they no longer need to rely solely on traditional methods if they decide to pursue a career in farming."