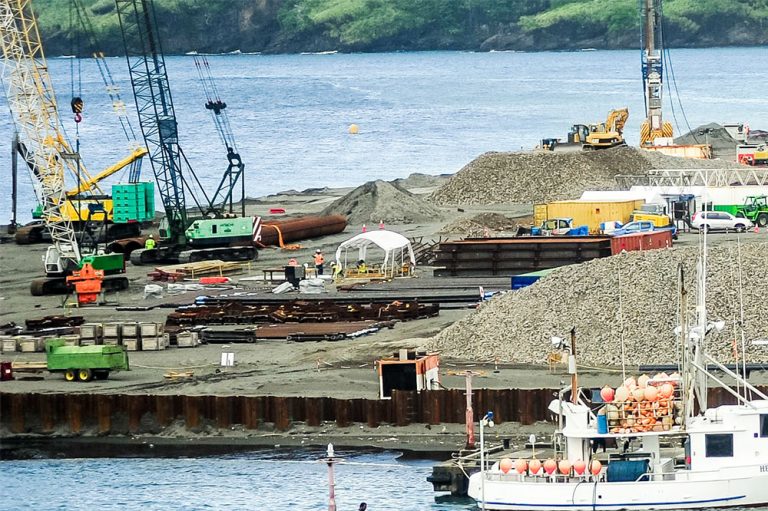 Kingstown Port project on schedule – PM
The Kingstown Port Development Project is proceeding on schedule, according to Prime Minister Dr Ralph Gonsalves.
The Prime Minister gave the update while responding to a question posed at a press briefing on Friday November 10, at Cabinet Room.
"I have been advised by our technical people that they are on schedule. They are on schedule to complete in the middle of 2025," Gonsalves said.
He said while he was away, he spoke with Chairman of the Port Authority [Cerlian Russell], "and our team at the port – the new construction, and the relevant officials in the Government have been discussing the commencement of the process of the sourcing of equipment to equip the port. We got to have a lead time for some types of equipment we may need. The initial total for the equipment we may need I am told is about US$16 million."
The new Kingstown port will cost approximately EC$650 million, and is of strategic significance to the continued socio-economic development of St Vincent and the Grenadines.
This project, according to the Government of St Vincent and the Grenadines will "realise the construction of new cargo port facilities and associated access roads on reclaimed land near the existing Kingstown Harbour, providing essential climate resilient infrastructure for economic activity on the island."
The construction will also see a new marine sewer line which will protect and improve the sustainability of the surrounding marine environment.
The construction is being carried out by Aecon Construction with an initial design period which was completed in May 2022. Actual construction started in 2023, with an anticipated duration of two and a half years.
The project is being financed by the Caribbean Development Bank, The United Kingdom Caribbean Infrastructure Fund and the Government of St Vincent and the Grenadines, and the construction contract will be supervised by Sellhorn Ingenieurgesellschaft mbH of Germany.
Meanwhile, Prime Minister Gonsalves referred to the port construction in response to a claim by the opposition New Democratic Party that "noting ah gwan" in St Vincent and the Grenadines.
He said that there is a multi-million dollar port development project "taking place right before their eyes" and a $550 million hotel development project by Sandals which is ongoing.