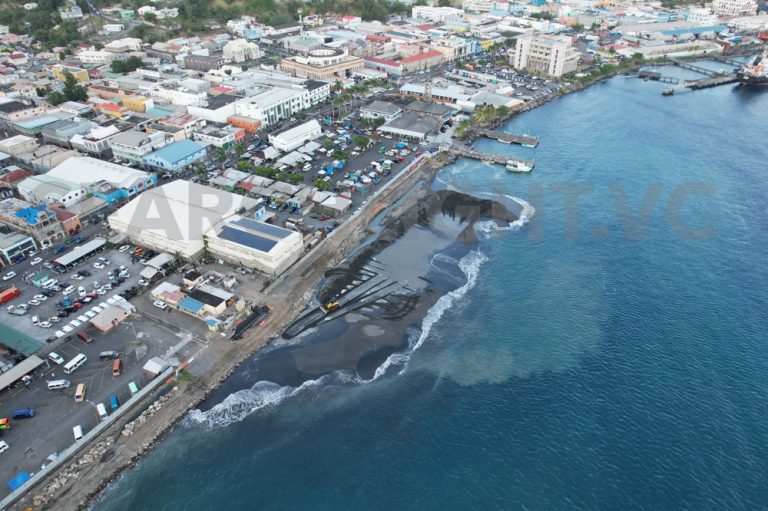 Government heading to Parliament for more money for Kingstown Port
When the sitting of the House of Assembly resumes next month, the government will be tabling a supplementary bill for additional funding for the Kingstown Port modernization project, now under construction.
The supplementary bill, which was disclosed by Prime Minister Dr Ralph Gonsalves during a press conference on Monday, will be tabled for EC$74 million.
"We are going with a 74 million supplementary estimates specifically for the Port. The money is already there, but we had not wanted to bloat the number and the way the fellas have been proceeding with the project, we need more money to address what is going on, so we have to go to the Parliament for it."
The EC$600 million Port Modernisation Project is being funded by the Caribbean Development Bank, the British Government and the Export Import Bank of Taiwan.
Gonsalves told reporters that the government is not seeking additional financing from lending agencies for the project.
"It is not additional financing it is just additional budgeting … we had to go look for the money elsewhere."
Parliament is also expected to debate on money to be borrowed to upgrade the Arnos Vale Sporting Complex ahead of the World Cup tournament.
St Vincent and the Grenadines was one of seven Caribbean countries selected as co-hosts for the 2024 Men's T20 World Cup to take place in June.
Government had announced that it will be spending an estimated $12 million on upgrading the Arnos Vale Sporting Complex in the lead up to the World Cup.