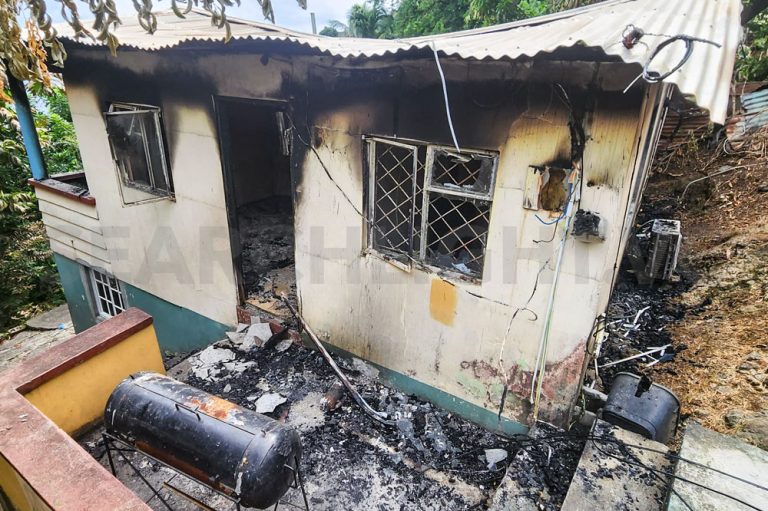 Family loses everything in fire on move-in day
On the day that a family of four moved into their new rental property, a fire claimed all of their possessions and left the three youngest family members traumatized.
On Saturday, September 30, Francis Williams and his three children, ages 12, eight and four, relocated to a rented home in Edinboro. The plans for that day were to unpack their belongings and begin the process of settling in.
However, by around 6:30 pm that plan went up in smoke. Father and tenant at the property told SEARCHLIGHT that he received a call while at work informing him of the fire.
"I got a call around 7:30 and when they had call they say the place already done burn."
Williams said he held out hope that what the caller had communicated to him was not true, but when he arrived at the property shortly after, he saw first-hand the extent of the blaze.
"We move in only that Saturday. Everything was lost. Every single thing. Nothing was saved. No clothes, no shoes, no books – nothing."
He told SEARCHLIGHT his focus since the fire has been ensuring that his children's mental health is not adversely affected and that they can return to school soonest.
"They sort of trying to get back to themselves. They start to be a bit more energetic today [October 2]. They kind of traumatize a bit still. They can't go school yet. I'm going to try to see if I can get them back in school by next week."
The family was able to secure assistance from a local hotel and Williams said, when the fire report which would indicate the cause of the fire is released, the Welfare Department will be able to assist them further.
"Right now we staying by [family]. I got some assistance from Beachcombers and Ada Restaurant- they brought up clothes and food yesterday [Sunday] and also gave us financial donations."
Neighbours told SEARCHLIGHT the fire intensified quickly and they rallied together to try to extinguish the blaze.
"My son, he boy and dey cousin had get water from the drums there to try to throw on it but it done catch."
The cause of the blaze is suspected to be a candle which was lit inside the home that evening as the residence reportedly did not have electricity.
The Fire Service reportedly responded to the residence but their efforts to get the fire under control were hindered by a lack of access to water.