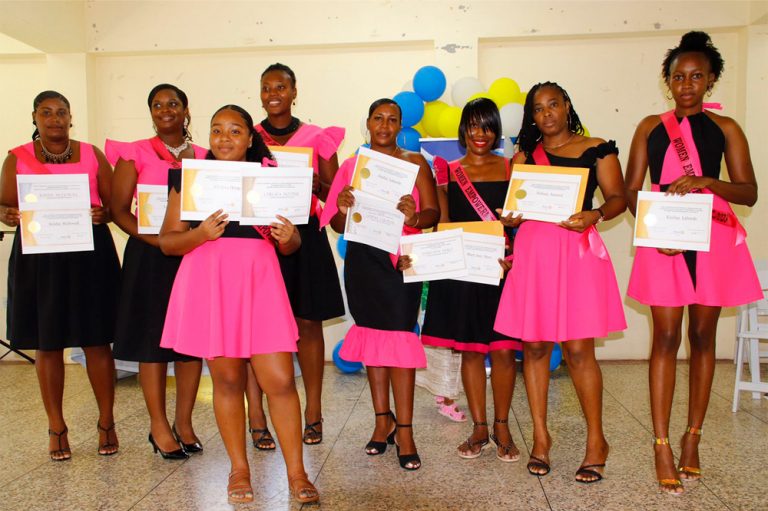 Ten women from red volcano hazard zone complete soft furnishing course
Ten woman who reside in the red volcano hazard zone graduated on September 23, having completed a six-week NVQ – Level 2 certified course in Soft Furnishing under the theme "Unlock your Potential".
This latest project was one of many projects under the Women Empowerment Programme which was launched by Rotary Clubs of St Vincent in 2021 after the explosive eruptions of La Soufriere.
To date, the beneficiaries under the Women Empowerment Programme are: 55 individuals who completed Electrical Installation at the certificate level; five female students who completed studies at the Associate Degree level in Mechanical Engineering, Architecture and Building Construction, Information and Computer Technology and Agricultural Science; four women from the Windward red zone who received four sewing machines and the current ten graduates of Soft Furnishing courses which was just completed.
In addressing the graduates of the Soft Furnishing Level 2 Course, Rotary 7030 District Governor Brian Glasgow congratulated the graduates on their achievement and the demonstration of their creativity after six weeks of training. The District Governor reassured the graduates of Rotary's continued commitment to offer support. He urged them to take the opportunity to display their products at the upcoming local products Expo.
Senior Education Officer of the Technical and Vocational Education and Training in the Ministry of Education Paulette Primus Hannaway spoke of the importance of gaining TVET skills training, especially at this critical time in the country's development since TVET has taken front and centre stage on the Education's agenda in SVG.
The SEO also highlighted the deliberate emphasis by the Rotary Club of St Vincent South on the development and empowerment of women as they contribute to socio-economic development of SVG.
Valedictorian, Sophia LaBorde the recipient of a sewing machine, spoke of embracing the opportunity given to her to be creative and also to earn an income from the skills she has gained from completing the Soft Furnishing course.
The course was sponsored by the Rotary Club of St Vincent South and facilitated by Debbie Barbour Sewing Academy. Funding for the project was made possible by the Rotary Clubs of District 7030, Rotary Foundation and also donors to the Volcano Relief Fund.
The objective of the Rotary Project was to empower women in order for them to make a meaningful contribution to their family, community and ultimately the economic development of their country.