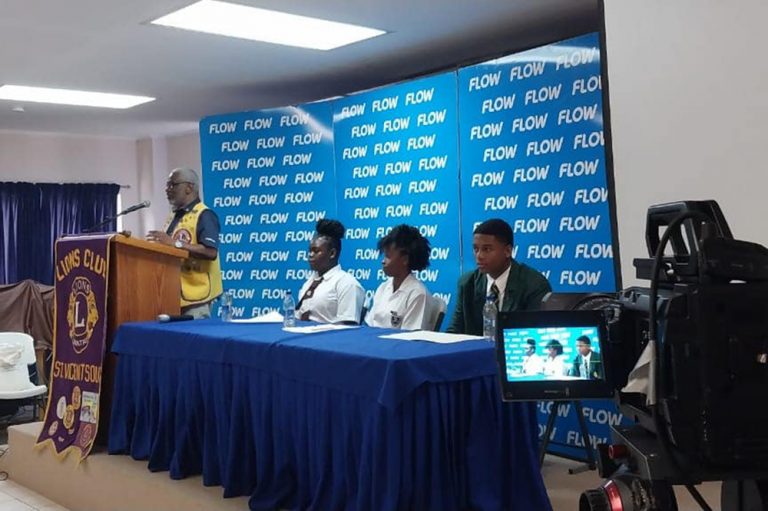 Public Speaking Committee Chairman defends students' 'stumbles'
Chairman of the Lions Club South Public Speaking Committee, Junior Bacchus has stood up in defence of students who experienced what he described as a 'stumble' in the preliminary rounds of the Lions Club South/Flow National Secondary Schools Public Speaking Competition.
Two video clips, which have gone viral on social media and resulted in criticism being heaped on the schools and the competition organizers, showed two female students losing their verbal footing during the Impromptu round of the competition.
For the impromptu round, students pull a topic from a bag and they are allotted one minute to prepare their speech after selecting. They are marked on material, manner, voice, language.
Bacchus phoned into the Hot 97.1 SVG 'AM Mayhem' show on Monday, October 2, to defend the performance of the students, one of whom had to present on the topic 'Heat Wave' and the other on 'Electricity Bill'.
"We must recognize that to stand up at public speaking, to face the world, you have one minute to consider a topic and present on it, on radio and television, it is not an easy task for a young person."
He said he was "disturbed" when he saw the comments being made by members of the public and accused them of "pulling down" the students.
"… This young lady who said clearly up front that she didn't know what is a heat wave but said she is going to try. I commend her for trying. I wouldn't pull her down. There was one other whose topic was light bill and she went a little off … but that is no fault of them. I believe as a nation we have to commend our young people. We have six very talented people."
The six people Bacchus referred to are the finalists who were announced on Sunday and will represent their schools on October 24 in the last leg of the competition. They are Janeil Stowe, St Vincent Girls High School; Christian Joseph, St Vincent Grammar School; Kevisha Richardson, St Joseph's Convent Kingstown; Soren Phillips, Thomas Saunders Secondary School; Rayana Ross, Mountain View Adventist Academy and Lisa Robertson, Adelphi Secondary School.
Bacchus admitted that there was little that the organizers could do to minimize the criticism from the public but he said he will encourage the finalists to get acquainted with information from local, regional and international media in order to adequately prepare themselves.
For the finals students will speak on the topic: 'Unless criminals' proximity to power is reduced, their ill-gotten gains confiscated and a culture of lawfulness fostered, the level of crime will remain at unacceptable levels'.