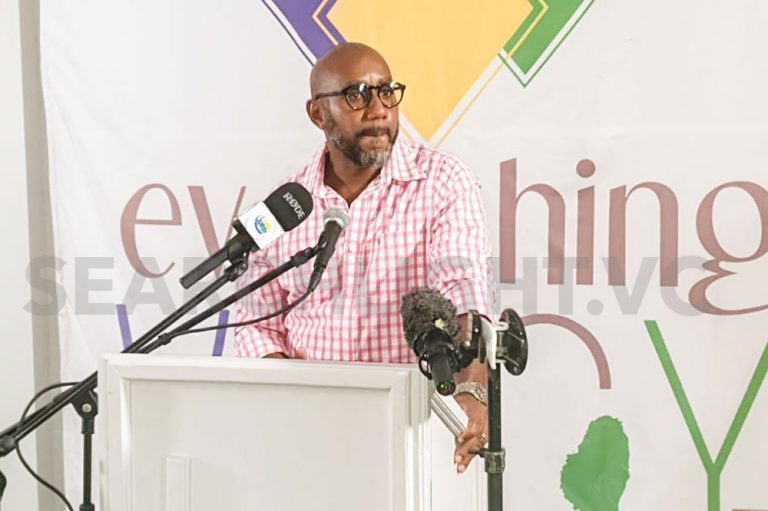 Produce for markets you can supply – Invest SVG
Executive Director (ED) of Invest SVG Glen Beache said on Wednesday that many businesses in St Vincent and the Grenadines (SVG) want to produce for the bigger countries but can't keep up supply when product is needed.
Beache, making his first speech as ED of Invest SVG, said as a result of their focus on international markets, these businesses are blind to what is in front them locally and regionally.
The ED made these observations at the media launch of Everything Vincy Expo Plus 2023 at the La Vue Hotel in Villa on Wednesday September 20.
He said if one's business cannot produce enough to satisfy a market, that market is not for your business.
"It is not just a matter of producing one off, it's a matter of consistency and being able to provide every single week…"Beache said.
The ED said that a few years ago, the SVG Tourism Authority of which he was CEO conducted a road show in England where they took some locally made candles that were a hit with persons at the event.
"They were so much a hit that when we finished one road show they were stolen off the table…we said okay we will use them as giveaways the next year, came back the next year, ordered them and the production people said 'we cannot produce enough of those'.
"And I am talking about going from 40 candles to about 160," Beache said, while adding that if we are serious about moving forward as business people, we have to be ready to compete properly and at a high standard.
"…And once we do that, I know that we will reach a certain place where nobody will be able to test us," Beache said, while adding that it will take a collaborative effort to achieve these goals.
He noted that Invest SVG is about to make strides and is hoping to form a "bond" with Vincentian producers that will move them forward.
Beache noted that this year, the Everything Vincy Expo has added a "Plus" and that shows growth as the 2023 event will not only showcase products and services from SVG but from around the Caribbean.
"And the region is one of our most important aspects…and as we move forward it means that we are going to be looking for the opportunity to take some of our producers overseas to show what we have," the ED noted.
Beache said also that moving forward we have to take pride in branding as if one's product is poor and has the SVG brand, that could cause people to think that all the products that bear the brand are poor.
He said persons must take pride in their brand as when one looks at SVG, one can see we are going places with investments like Sandals and Marriott.
"As we move forward we need to come together and make sure that we promote what we have because, guess what, we will say we have the best water which I agree with, whether it's Island Sip, Tusty, Mountain Top but every other country that produces water is going to say the same thing. Blue Water is one of the worst tasting things I have ever come across, but if you speak to a Trini or a Lucian they will tell you it's the best thing ever.
"….I say that to say the competition is tight out there, and we need to find that competitive edge as Vincentians; we need to promote what we have and that takes every Vincentian speaking positively of what our products are and what we have to offer…" Beache said, while noting that while we have a long way to go, he is confident that we will get there.
The 2023 edition of Everything Vincy Expo Plus runs from October 26 to 29 and will be held on the northern part of the tarmac of the decommissioned ET Joshua Airport in Arnos Vale.