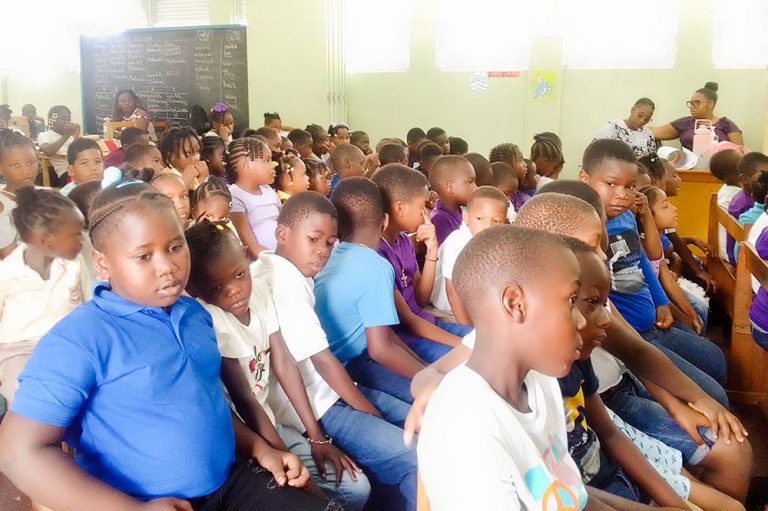 Park Hill Government promotes peace among students
Children attending the Park Hill Government School have been admonished to be peaceful students and stay away from any form of violence.
This message came from PC Cliseena Butter on Thursday September 21.
On that day, the school held an event to celebrate International Peace Day.
Delivering a brief address to the students, PC Butler urged students to "stop the bullying and stop the fighting."
The female police officer who is attached to the Georgetown Police Station also warned the students against using items in their book bags to cause harm to others.
Making mention of pencils and scissors, PC Butler pleaded "stop using your school materials as weapons."
Encouraging the students to maintain a culture of peace, PC Butler also reminded them of the need to listen to their teachers and parents and strive to be peaceful students.
Telling the students to be quiet and calm, while at home and in school, she urged them to choose peace.
"You as boys and girls have to practice to be peaceful."
The officer also appealed to students to become involved in sports, or join a police youth club, to keep their minds active and keep them away from violence.
Butler was accompanied by PC Esther Mc Barnette, who also spoke to the students about peace.
In her address, Principal of the School, Elizabeth Johnson told the students that they all have a part to play in maintaining world peace.
"Individually, in our small corner, we all have our part to play."
The principal further informed the students that "peace is the most fundamental job that we have," and that this job belongs to each and every one of us.
Teachers prepared posters, which all depicted peaceful ways in which students can settle their differences.
The students were highly entertained when teachers performed a short skit on Thursday.
This year, International Peace Day was observed under the theme " actions for peace: our ambition for the global goals."