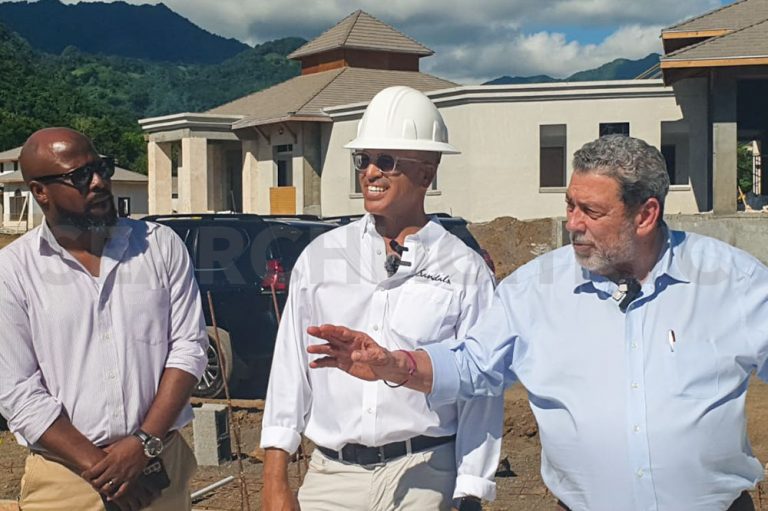 Sandals working on improved airlift into SVG
The management of Sandals Resorts International (SRI) is working with several airlines to improve airlift into St Vincent and the Grenadines (SVG).
This development was disclosed by Terence Des Vignes, Regional Project Director of Sandals International on Friday September 8 during a tour of the site of the company's resort at Buccament, St Vincent by Prime Minister Dr Ralph Gonsalves and three other members of Cabinet.
Des Vignes said within Sandals, there is a company called Unique Vacations (the marketing body for Sandals and Beaches Resorts), and this entity is working with airlines like Air Canada, Delta and Jet Blue to improve airlift into SVG.
The Regional Project Director said airlines are interested in the opening date and he believes that any new airlines that decide to fly to SVG will reduce ticket prices so that is a good look for the country.
In June this year, during a tour of the Buccament resort, Gary Saddler, Executive Vice President of Sales and Industry Relations for Unique Vacations said the team is "very excited" about the possibilities that the facility brings to SRI.
During the September 8 tour, Gonsalves said a few months ago, he and Minister of Finance Camillo Gonsalves went to Jamaica for the opening of a Sandals hotel there and during the visit met with executives from Air Canada along with Saddler and one of the targets spoken about was having Air Canada and American Airlines move to more flights into SVG.
The Prime Minister said he is awaiting a report from Glen Beache, former Chief Executive Officer (CEO) of the St Vincent and the Grenadines Tourism Authority (SVGTA) who now heads Invest SVG.
Since the crash of LIAT 1974 Limited in July 2020, airlift into SVG has been unreliable and inadequate for the needs of the country.
The Caribbean Media Corporation (CMC) reported recently that the Organisation of Eastern Caribbean had decided to set up a technical team to further discuss air transportation in the sub-region. The CMC quoted Dominican Prime Minister Roosevelt Skerrit, as saying that each OECS member state will have a representative on the technical team, "and then we will be engaging some consultations to put into place the legal and corporate framework to advance the decisions that would have been taken … at … [a] meeting of the OECS heads".
These countries are Antigua and Barbuda, Dominica, Grenada, St. Lucia, St. Vincent and the Grenadines, St. Kitts-Nevis, Montserrat, Anguilla and the British Virgin Islands.
The recent meeting discussed a Caribbean Development Bank (CDB) document.
Last month, Gonsalves told reporters that the CDB produced document concerns the re-establishment of a regional airline and details the process by which concerned parties could bring back LIAT to the skies of the region.