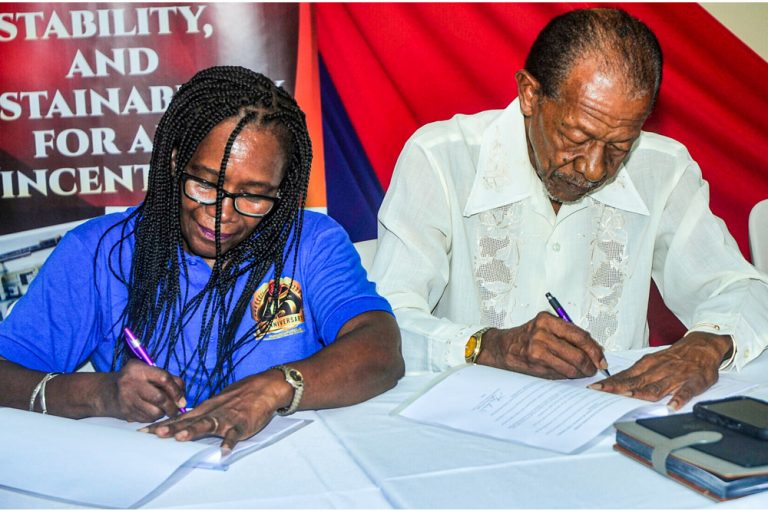 Teachers credit union inks new agreement with CTAWU
Employees of the St Vincent and the Grenadines Teachers Cooperative Credit Union (SVGTCCU) are now covered by a new collective agreement, which was signed on September 11 between the SVGTCCU and the Commercial Technical and Allied Workers Union (CTAWU).
Miriam Roach, President of the SVGTCCU disclosed that negotiations began a few years ago but were disrupted by the Covid-10 pandemic. They restarted in earnest last year and concluded earlier this year.
She added that the teachers union has always had its own employees' regulations and has, on an annual basis, hosted reviews to ensure that the staff interests are reflected in these regulations.
"However with the negotiations there were other issues that were brought to the fore that caused us to re-look our regulations and to agree with the Union as to how we can address the staff interests in a better way," the SVGTCCU head said.
These included vacation leave, study leave, along with the salaries which were negotiated "so you have an increase in salaries for staff, you have adjusted vacation and other types of leave and the negotiations worked out so in the end, staff will benefit for the next couple of years till the next round of negotiations commence."
Joseph Burns Bonadie, General Secretary of the CTAWU told SEARCHLIGHT: "We reached an agreement that the workers themselves endorsed, and we had to explain to our members that we are operating in a different environment. The Agreement is retroactive to 2022 and the …[workers] agreed to the date that we had put forward and although they have they own regulations, we were able to improve on a number of areas such as Grenadines allowance, scholarships for children of employees. All in all it is a very good agreement."
Bonadie explained that when negotiations are conducted, "we do not do it behind the backs of the workers, because the two shop stewards are always present at the table during the negotiations."
This is because if there is a problem, the shop stewards would go back to the workers and return to the union officials with any new recommendations put forward by the workers.
"This is how we concluded this Agreement in a very amicable manner, to the satisfaction of the employees that we represent," Bonadie said.