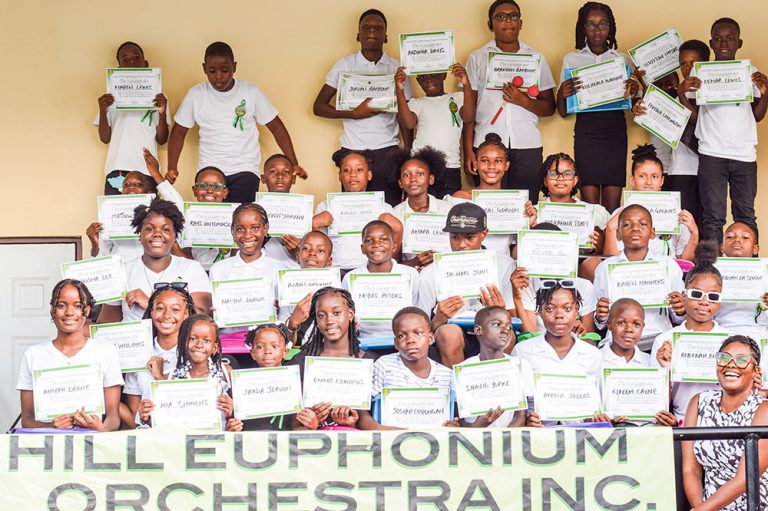 SHESO trains 41 more young pannists
The Sion Hill Euphonium Steel Orchestra (SHESO) started its July/ August pan training programme back in 1995.
And, to date, over 1500 young persons have benefited from the annual programme.
The latest cohort of persons who got their first opportunity to play the steelpan graduated last Sunday, August 3, at a ceremony held at the Sion Hill Village hard court.
The six weeks of training was conducted by Mikalla Knights, Tillal Webb and Septimus Cain, and netted 41 youngsters between the ages of 8 and 17 years.
This year a special effort was made to include students from the Sion Hill Government School.
At Sunday's graduation ceremony, graduates gave their parents and other well wishers a taste of their new-found talents and three participants were rewarded for the impression they left on the tutors.
As such, Rhys Hutchinson, selected as the most outstanding graduate, collected a handset compliments FLOW. Likewise, the most disciplined graduate was Jai- Mari John and most improved – Nia Simmons.
Also rewarded were members of the Junior Band, who were successful at CSEC and CPEA. They were given monetary donations compliments the Sion Hill Sports and Cultural Club.
Before the presentations, the ceremony heard brief remarks from specially invited guests.
Addressing the ceremony were President of Youlou Pan Movement Rodney Small, National Properties Limited representative – Leroy Llewelyn, as well as Administrative Director of the UK Friends of the Mustique Charitable Trust Dularie Malcolm and Parliamentary Representative of
East Kingstown Fitzgerald Bramble.
Also making remarks, was Chair of SHESO Warren Knights who expressed gratitude to Malcolm and her organisation for their unwavering support to the annual training programme.
"Our deepest gratitude extends to the heart of this initiative The Mustique Charitable Trust… Mrs Dularie Malcolm, your unwavering belief in our mission and your commitment to uplifting communities through education and cultural expression are truly commendable", Knights emphasised.
Continuing his appreciation for the MCT input, Knights added: "Your generous donations have played an instrumental role in our mission to educate, inform, and empower vulnerable at ant risk with life skills and positive attitudes".
For the graduates, it is not all done, as the SHESO will continue to accommodate them in additional practice sessions at the band's pan yard on Saturdays.