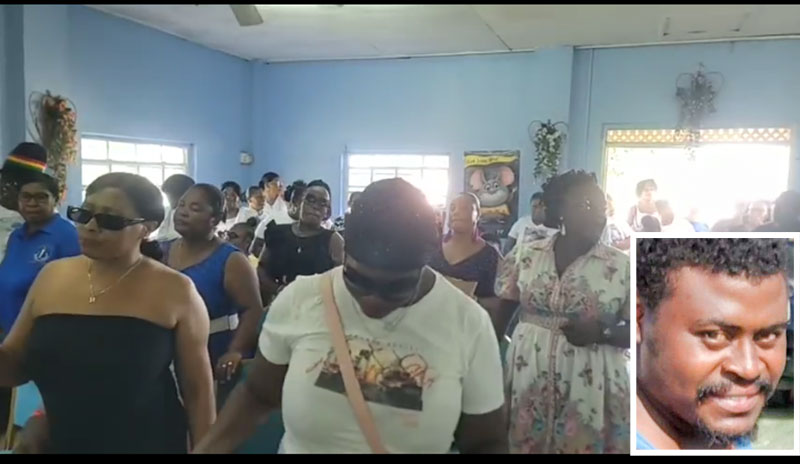 Relatives, friends bid farewell to Sandy Bay man missing at sea
Relatives and friends of former Sandy Bay resident Kenson Browne bid a touching farewell to him last weekend.
Browne, 25 is still unaccounted for more than one month after he was involved in a boat accident.
The accident took place on the night of August 13, while Browne and 17 others were on a boat returning from a picnic at the Falls of Baliene.
The 17 other passengers were rescued from the accident scene at Karamacou Bay, an area between Owia and Fancy on the north eastern cost of mainland St Vincent.
After the accident, searches were conducted by the SVG Coast Guard and civilians, but so far, there has been no sight of Kenson Browne.
Wanting some closure to the tragic circumstances that took their loved ones, relatives and friends recently held a memorial service in Browne's honour.
The service was held last Saturday September 9 at the Sandy Bay Baptist Church.
There, family and friends paid tribute to the missing man.
Randy 'Spartan' Cordice, one of Browne's close friends said words cannot express the extent of his sadness over the sudden loss of his friend. "Till now, I can't come to grips that Kenson gone."
Cordice said he had developed a very good relationship with Browne since 2017, when they came together with other youths to clean up the old school grounds.
"We looked out for each other," Cordice admitted as he spoke of his missing friend.
The grieving friend also described Browne as a "very kind and helpful" person.
He also remembered going on a boat ride to Canouan in early August with Browne and other friends.
Cordice said he saw Kenson the day before the accident, but regretted that they did not get to talk then.
Cordice said he did not worry when he heard about the accident on August 13, because he knew "Kenson was a good swimmer."
But later when he heard that Kenson was unaccounted for, Cordice said that news made a hole in his heart.
"I couldn't sleep that night," Cordice remembered tearfully.
Many other persons also joined the service to pay tribute to Browne who is being hailed as a hero.
Following the accident, Browne reportedly helped to rescue other persons before he disappeared in the rough waters.