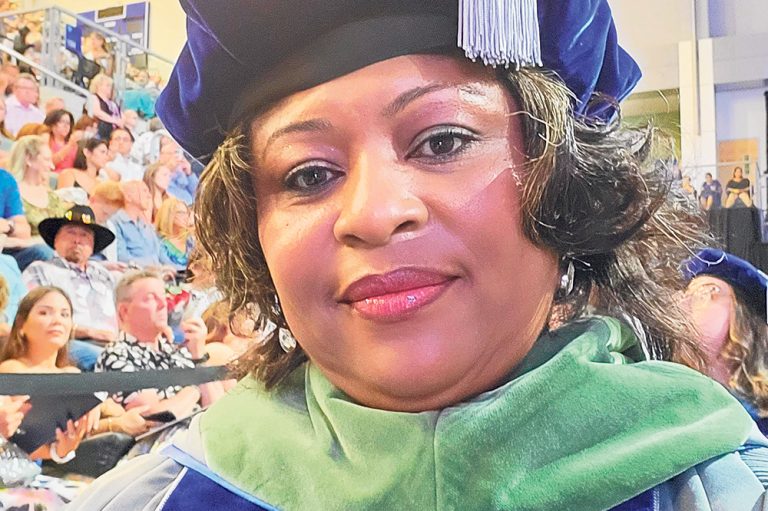 Newly minted doctor of health science aims to share knowledge
Desserine Primus, who recently earned her doctorate in health science says her wish is to pass on her knowledge and expertise.
"I am very passionate about education and I want to transition there," Dr Primus told SEARCHLIGHT on Thursday during a telephone interview.
"I feel accomplished. I am feeling really great and also relieved and I am looking forward to educating others," Primus said of her doctorate in health science.
"I have done a lot of work on minority health and I am looking forward to getting a platform to pass that information on and I want to consult to help show organizations what they can do differently."
Primus is a senior patient services administrator at a hospital in New York and has more than 25 years professional experience and over 15 years administrative experience. She is also an experienced pediatric surgical and Intensive Care Unit (ICU) Registered Nurse (RN).
She said one of her most trying professional experiences was being intimately involved in the early stages of the COVID-19 outbreak.
"COVID-19 was painful. We got the first case in the North East in March 2020 and we had to try to figure it out and it was daunting.
She added that her workplace lost many patients and the morgue truck was close to her office.
"That was very emotional for me and at that time I was in a senior leadership role so I spent a lot more time on campus and it was difficult," she said while adding that at that time, she was very worried for SVG as she had four family members succumb to COVID-19.
"…But I think they (SVG) did quite well," she commented.
She says that she is very interested in preventive healthcare in SVG and plans to speak with the Minister of Health to see what she is able to help with here.
"I am very concerned with deaths I see at home with what I know are preventable illnesses, breast cancer, colon cancer, ovarian cancer… screening can help prolong life and with early diagnosis of these diseases, the treatment journey is one that is curable," the former Kingstown / Old Montrose resident said.
She noted that the problem in SVG seems to be late diagnosis resulting in patient deaths, but that is not unique to SVG, as in NY, they are also working with the African American community to encourage early screening.
She also noted that Chronic Non Communicable Diseases (CNCD) are everybody's responsibility and depending on which one, early treatment is best because that helps the outcome.
The medical professional is encouraging persons to join the nursing profession as she believes it can be a very rewarding and sustainable career.
"You will always need nurses. You can't replace them with machines and I encourage everyone to be a care provider as there are also a lot of specialities, nursing is broad," said Primus whose COVID-19 experience helped her decide to pursue her doctoral degree.
Primus has also been recognized by Cambridge Who's Who for showing dedication, leadership and excellence in all aspects of patient care.
She is the daughter of Stanley Primus and Pearlie Haynes. Her grandmother is Drucilla Primus of Paul's Avenue who celebrated her 101st birthday earlier this year.
Primus said she is especially grateful to mentors Cynthia Bernard, Norma Keizer, and Roslyn Peters for their guidance in enabling her to attain her educational aspirations.
A member of the Honor Society of Phi Kappa Phi and a Legal Nurse Consultant, Dr Primus received her Master of Science Degree in Health Law with honours from Nova Southeastern University in 2006, a Bachelor of Science in Nursing from Pace University in 1999, and an Associate in Applied Sciences in 1994. She earned a Certificate in Leadership Theory and Practice from Fairleigh Dickinson University in 2020 and completed a Doctor in Health Sciences from Nova Southeastern University in 2023 with a 3.98 GPA.
Dr Primus is especially proud to be an alumni of Miss Forde's preschool, Petersville Primary School, and the GHS. She is a former teacher at the Kingstown Anglican School.
She Left SVG in 1991.