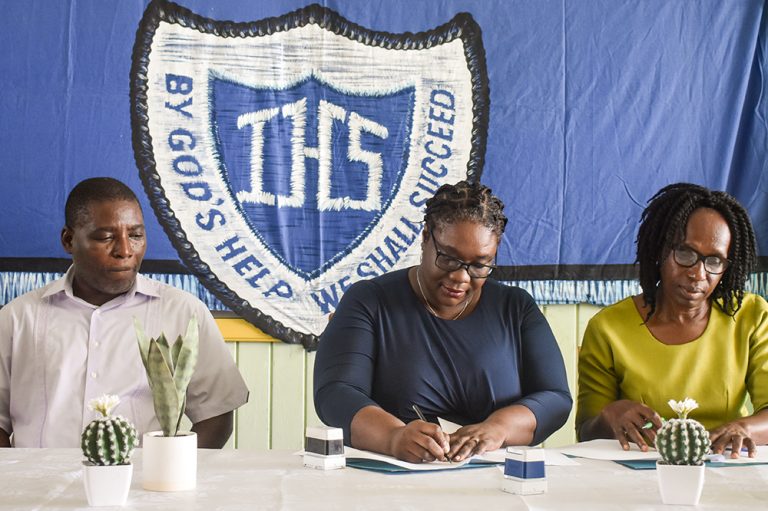 Intermediate High School officially launches Agricultural Science Programme
The Intermediate High School will be offering Agricultural Science to its students as part of the Caribbean Secondary Education Certificate's (CSEC) curriculum in the 2023/24 academic year.
This follows the signing of a Memorandum of Understanding (MOU) on Tuesday August 22, between the Zero Hunger Trust Fund and the school.
Principal of the Intermediate High School Mona Green thanked the Zero Hunger Trust Fund for partnering with the school on this initiative. Green noted that Agricultural Science is an important subject and that the land space is available at the school to facilitate the subject, which also has a practical component.
Director and Chief Executive Officer of the Zero Hunger Trust Fund Safiya Horne-Bique said the signing of the MOU is an extension of the school's Agricultural Science Programme which started last year. Bique said the Zero Hunger Trust Fund supports the Agricultural Science programmes in the schools to meet its mandate, which is to end hunger.
Minister of Agriculture Saboto Caesar, Minister of Education Curtis King and Minister of Tourism Carlos James also spoke at the signing ceremony.
The Ministers commended the Intermediate High School and the Zero Hunger Trust Fund for embarking on the initiative which will ensure food security in St Vincent and the Grenadines. They pledged their ministries' commitment to the program noting that they will provide assistance to the students.
Since 2019, the Zero Hunger Trust Fund has supported Agricultural Science programmes at secondary schools to provide students with opportunities to enhance their knowledge of sustainable agriculture policies, practices, techniques, and methodologies, and to explore avenues for sustainable livelihoods in agriculture.