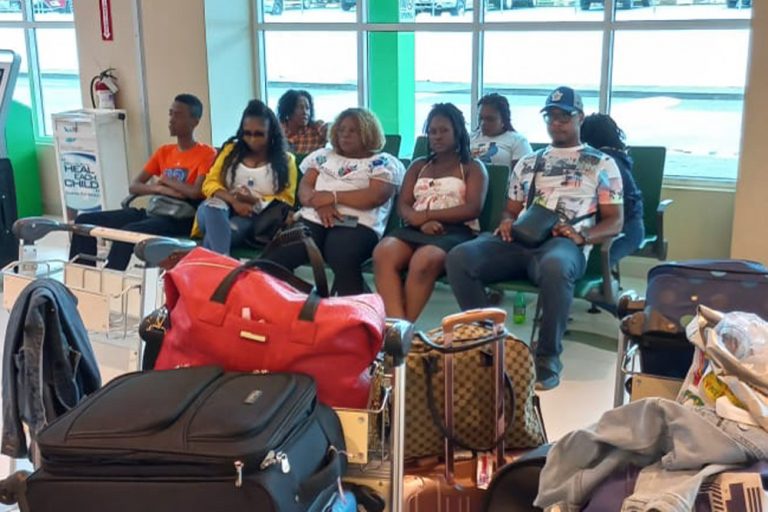 Newlyweds destination wedding turns nightmarish due to InterCaribbean Airways
A newlywed couple from Canada says they are "thoroughly miffed" at InterCaribbean Airways for causing them to miss their connecting flight back home on Saturday, with little communication and no provision of accommodation.
Jamaican-born Canadian Andrew Morrison-Mighty and Vincentian-born Canadian Petrina Evans-Mighty who got married in St Vincent on August 13, told SEARCHLIGHT that after having a wonderful wedding and vacation on the island, they, along with three other family members are unable to leave, having been stranded at the Argyle International Airport (AIA) since early Saturday, August 19.
Andrew, a lawyer, told SEARCHLIGHT that he and his family got to the AIA at 6:30 am for a flight scheduled to leave St Vincent for Barbados at 9:30 am. He said when they got to the airport, they were greeted with news that the airplane had engine problems, but were given no further information. Because of the delay, they missed their connecting flight on WestJet which was scheduled to leave for Canada at 3 pm.
Attempts by Andrew to secure new reservations to Canada in the upcoming days have so far been fruitless with no seats available from Barbados until the end of August.
He however said their problems with the airline did not begin while trying to leave St Vincent, but even before they got to the island.
Andrew said before he left Toronto, he had to answer numerous telephone calls from family members who had suffered extensive delays from InterCaribbean Airways while traveling to St Vincent for their wedding.
"Can you imagine coming for your wedding and you have to be fielding telephone calls from people because they have to be sleeping in Barbados because they're five to six hours delayed?"
Unbeknownst to Andrew, the airline has built a reputation of flight cancellations and delays, accompanied by poor communication, across the Caribbean. He said he learnt this as soon as he came to St Vincent and started speaking with his relatives.
"You guys never heard that InterCaribbean is a garbage airline? Every time somebody books InterCaribbean they experience delays or inexplicable cancellation. Do not travel with that airline," he said they told him.
Andrew said when he did research online and found articles where the Guyana government is threatening to impose sanctions on the airways if they continue to delay and cancel flights.
He said he believes that St Vincent and the Grenadines should follow in the Guyana government's footsteps and warn InterCaribbean about their poor service as it is damaging to its tourism product.
"How can the nation of St Vincent tolerate and abide such foolishness when an airline is the first point of contact for your tourism product? People are coming in via these airlines, and if they are experiencing this foolishness, despite whatever they experience in whatever resorts they are in during their stay, their experience will inevitably be coloured by what they experience at the airport."
Andrew spoke passionately about the importance of maintaining St Vincent and the Grenadines' tourism product as he was "thoroughly replenished" during the 15 days he spent in the country.
"St Vincent was such a blessing. This is my first time in St Vincent. You guys have so much promise in terms of your tourism product, and I say this as a Jamaican because…we are a large island, we have a more established tourism sector, but the natural environment that you have, the unspoiled beaches, it is untapped…"
He questioned who will provide accommodation for the dozen or so people who were stranded at the AIA as at 3:52 pm on Saturday when the interview was conducted.
"Mind you, my wife has family here so at least when push comes to shove, I have somewhere to stay. What about this young girl traveling for the first time? She may very well have to find her own accommodation," he said.
Andrew emailed InterCaribbean Airways about these concerns, to which they responded:
"Thank you for contacting interCaribbean Airways Customer Service. I apologize for the inconvenience and frustration you and your fellow passengers have experienced due to the flight delay and lack of communication. I understand the importance of timely and accurate information in such situations.
"I regret to hear about the engine problems that caused the delay of your InterCaribbean flight at Argyle International Airport. Flight disruptions are indeed unfortunate, and I empathize with the impact it has on your travel plans, including the connecting flight to Toronto on WestJet.
"I assure you that your concerns are being taken seriously, and I will personally ensure that our team addresses this matter promptly. It's concerning to hear that there has been a lack of communication and information provided to you by our staff at the airport. This is not the level of service we strive to provide to our passengers.
"I will immediately investigate the situation and work with our team at Argyle International Airport to provide you and your fellow passengers with the necessary…[information]."