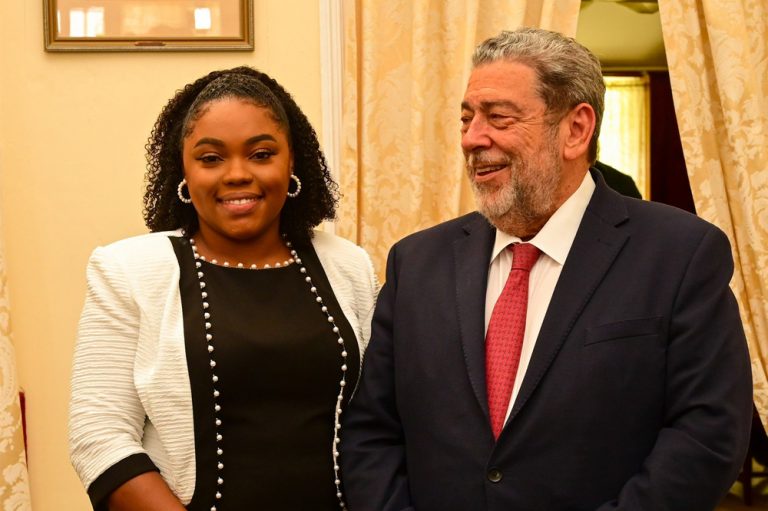 New senator will be a bridge between young people and the PM
NEWLY APPOINTED senator Shackell Bobb says inclusive political participation is crucial to building stable societies and developing policies that respond to the specific needs of our younger generation.
Bobb, 30, who has been appointed parliamentary secretary in the Office of the Prime Minister was speaking on Monday after being sworn in at Government House.
"I now have the privilege of saying that I am one of the youngest, if not the youngest member who will be sitting in Cabinet and that to me is a great feat.
"Our government got it right because indeed the youths are the future," Bobb stressed.
She said that young people bring to the table, innovative ideas that will help in developing our nation.
"I have no doubt that with the guidance of those who came before me, great things can happen and I accept the guidance with open arms because in order to know where we are going, we must know where we are coming from," Bobb said while addressing the gathering at Government House.
Bobb said she is ready to do her best in her new position and fully accepts the challenges placed before her.
"I know for a fact that there is a lot of work to be done and I assure you that I am ready to accept the challenge."
The senator said she is thankful to her family and friends who have been her backbone. These persons include her mother Diane Bobb, her partner Sunil Ambris and her sisters.
She said she has been gifted with mentors throughout her life and their guidance has been pivotal to her success.
"No man is an island. We are always learning and even though I may be a clean slate in this capacity, I am here to work hard, to learn and accept guidance and to make a positive impact," the Mesopotamia resident said.
She urged persons to always strive to make a positive impact in the development of the country.
Prime Minister Dr Ralph Gonsalves said Bobb will act as a bridge between his Office and the Ministry of Youth Affairs headed by Orando Brewster and also a link between his Office and the soon to be launched PM'sYouth Advisory Council.
Gonsalves said Bobb's responsibilities will include work with the core body of the advisory council which will be chaired by Anson Latchman.
The Prime Minister described Latchman as a young scholar and professional who currently works in the Ministry of Finance, adding that all the names associated with the PM's Youth Advisory Council will soon be made public.
"…Which means she will be a bridge between the Prime Minister and the Ministry ofYouth," Gonsalves said. He added also that the government has recently appointed a new reparations commission headed by Adrian Odle, and that too will be an area where Bobb will be a link.
Gonsalves noted that there are specific areas of both regional and foreign policy in which Bobb, through the Ministry of Foreign Affairs, will engage while also addressing specific interests of her own and working on capital projects.
"… And in her work with the youth and in the other areas outlined, she will be assisting … the youth bodies which interact with the Ministry of National Security to help us to have young people, that small and tiny minority who go astray into criminal activity, to stay on a fruitful and engaging path," Gonsalves commented.