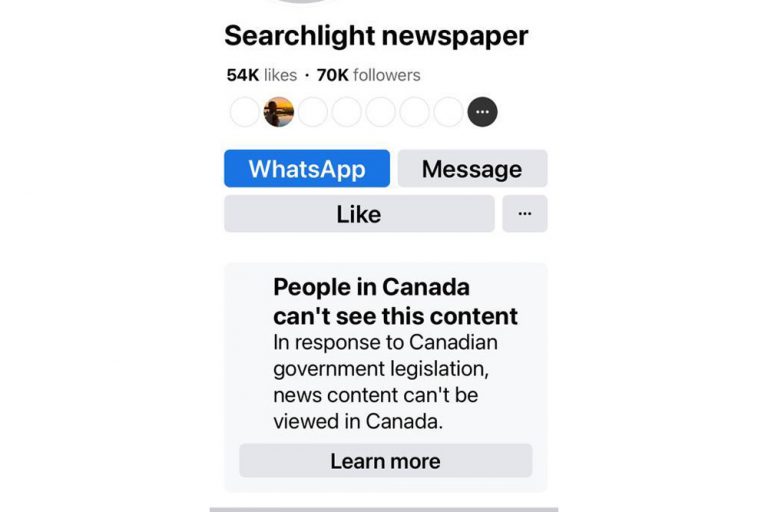 News being blocked by Meta on social media sites in Canada
News from media outlets around the world is being blocked in Canada by Meta, the company that owns Facebook and Instagram.
The change, which also affects media outlets in St Vincent and the Grenadines including SEARCHLIGHT comes in response to a new law in Canada that requires tech companies to pay news outlets for using their content.
Content posted on Facebook and Instagram by both local Canadian news outlets and international outlets will not be visible to Canadians using the platforms.
In order to read online news, residents of Canada must go directly to the website of the news organisation or subscribe to an e-paper service.
Canada passed the Online News Act in June, joining a push by numerous governments to force big social media companies to compensate news organisations. The Canadian bill requires the platforms and search engines to negotiate with news publishers to license their content.
Meta had previously signalled that it would block news access in response to the Canadian law. In a blog post, the company said the Online News Act "misrepresents the value news outlets receive when choosing to use our platforms."
"The legislation is based on the incorrect premise that Meta benefits unfairly from news content shared on our platforms, when the reverse is true," the blog post said, arguing that news outlets "voluntarily" share content to expand their audiences. Meta said it had generated traffic for publishers in a 12-month period to April 2022 that it valued at more than 230 million Canadian dollars.
Pascale St-Onge, the country's minister for Canadian heritage, described Meta's actions as "irresponsible."
"They would rather block their users from accessing good quality and local news instead of paying their fair share to news organizations," Ms. St-Onge said in a statement on Twitter.
Ms. St-Onge said the Canadian government would stand its ground with the new legislation.
"Facebook is trying to send a message, not only to Canada, but to other countries like New Zealand, the United Kingdom and the United States," she said.
Google has also said it plans to remove links to local Canadian news content. In a June 29 blog post, Kent Walker, the company's global affairs president, said the Online News Act was "unworkable" and exposed the company to "uncapped financial liability" by forcing it to pay for showing links to news reports.
Walker said Google had informed the Canadian government that it would remove news links as well as discontinue its Google News Showcase product when the law took effect.
The Canadian bill is modelled after a 2021 law passed in Australia, the first country to enact such legislation. At the time, Meta temporarily blocked sharing news links in Australia, before coming to a deal and lifting the ban.
California lawmakers have been considering a bill that would require the tech giants to pay for news, but said last month that it had been shelved for a year. Meta has pushed back forcefully against the bill, known as the California Journalism Preservation Act.