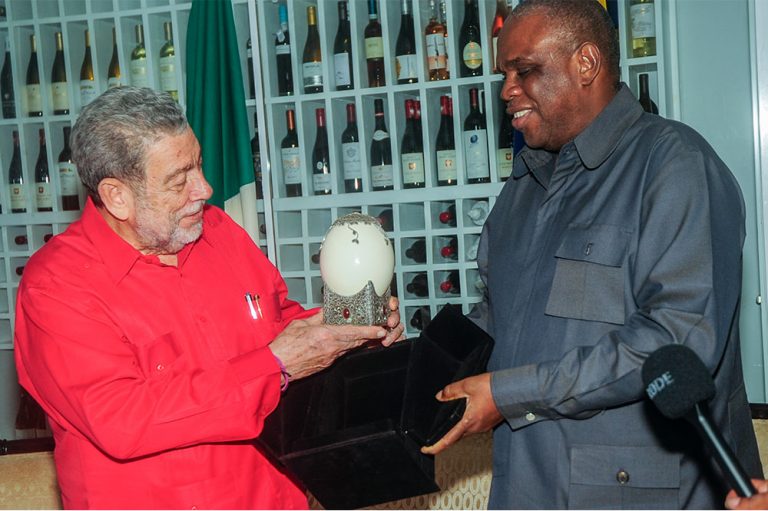 Afreximbank Bank makes US$1.5 billion in investment funds available to CARICOM
Eleven CARICOM countries have signed on to the African Export-Import (Afreximbank) Bank which recently established a presence in the Caribbean through Barbados.
Prime Minister Dr Ralph Gonsalves said this is an indication of the growth in relations between Africa and the Caribbean. The Prime Minister was speaking at a press briefing on August 5 at La Vue Hotel, following discussions with former Nigerian President Chief Olusegun Abasanjo and the President of Afreximbank, Professor Dr Benedict Oramah.
"This is the first time that we have had a commercial bank with a developmental dimension coming out of Africa and linking with the sixth region of Africa – the Diaspora…the Caribbean is central to that Diaspora," Gonsalves said.
The Prime Minister noted that this is an important strategic development for the region and St Vincent and the Grenadines.
"I think this is a matter of great significance to our region, St Vincent and the Grenadines and our linkage with Africa. I just want to remind everybody who is listening that Africa has a population of 1.4 billion people. Africa has one of the richest countries in the world from the standpoint of resources," Gonsalves explained.
Former President of the Federal Republic of Nigeria Chief Olusegun Abasanjo said the discussions were fruitful and he was satisfied that a number of outcomes he strived to achieve during his time as President are actually coming to fruition now.
Chief Abasanjo also noted that Prime Minister Gonsalves has long been an advocate and a leader in the Pan Africanist movement and the establishment of Afreximbank Bank in the region is for the good of Caricom and Africa.
President of Afreximbank, Professor Oramah said the bank is committed to promoting trade and investment throughout the Caribbean and Africa.
The Bank will host its Bi-annual Trade Fair in Cairo, Egypt from November 9-15, 2023. (API)