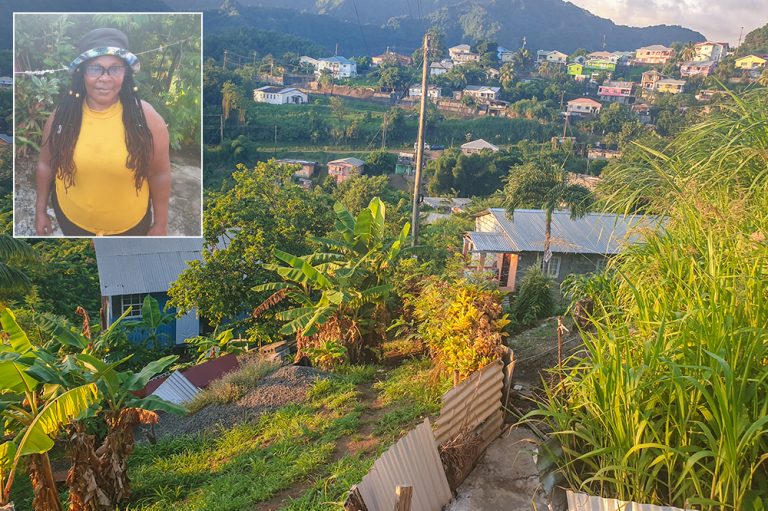 Rillan Hill residents call on police to be peacemaker in land dispute
Jamie "Rainy" Richards of Rillan Hill is calling on officers attached to the Questelles Police Station to take reports of threats to her family seriously.
Richards told SEARCHLIGHT this week that her family has permission from the Land and Surveys Department allowing them to occupy a piece of land in Rillan Hill but a man is squatting on a section of the land and has been constantly issuing threats and brandishing weapons.
She said reports to the police have gone unanswered on several occasions.
Richards said what is strange, is that on July, 19 this year the man was chopping down their galvanize fencing as he would sometimes do, and they asked him to stop but he persisted. She claimed that he later also began to dig up a mint plant on their land and they again told him to stop, but he persisted.
She said that stones were thrown at the galvanize fencing to deter the man who ended up going to the police and accusing her family members of wounding him; she claimed this was not the case.
Richards said the police arrived on July, 20, to arrest her mother for allegedly wounding the neighbour. She said they have been told that the matter is being investigated.
"It first started when we got permission from the government to occupy the crown land and Surveys says it will eventually belong to my mother so we told the man, in a decent way, to find somewhere to go and for three years now he insist he not going to move," Richard said, while alleging that the man would soShe said they erected the galvanize fencing to keep him out of their sight and mind but he goes on the fencing and chops their trees or beats on the galvanize.
"We can't tell him anything. The police never come- Questelles Police. On the 19th he jump up on the fencing and my mother ask him if he had permission to chop the fencing but he chopped more, and I called the police and I telling them he had a cutlass.
"The police said they were coming and never came," Richards related, while adding that the four members of the family, two males and two females, are scared they could eventually be killed and the police is giving no assistance when they report the constant threats.
"We call and they never come. We went to Kingstown in order to get satisfaction and they sent an officer who told him not to come on the property," Richards said, adding that it was strange that an officer came from Kingstown and officers who are stationed at Questelles never respond.
"The surveys department told my mother to clear out a path for us to walk but he approached her with an axe and mom went to police and they never came.
"I want to know why they investigating us and they never investigate him. His father even came with a stick and my mother went to the police and they never came," the woman related.
"We are just law abiding citizens and we don't trouble him. Is like the police failed us and it's a household headed by a woman with two younger boys 19 and 20.
"They are failing us as women and we are trying to be on the safe side. I don't know why when we call them they don't ever come," Richards stressed while showing a letter dated May 6, 2022 from the Land and Surveys Department and addressed to the Commissioner of Police (COP) Collin John advising that Irma Richard's (Jamie's mother), has permission to occupy Lot No. 22 on Survey Plan A636.
The letter states that Irma complained that she is constantly being harassed by Uganda Bailey as she attempts to access Lot No. 22.
"The Department solicits your support to intervene in the matter and caution the parties involved to respect the boundaries outlined as the Department has done this on several occasions," the letter further states.
The letter is also carbon copied (CC) to the Questelles Police Station.
On Thursday, Bailey said he has been living on that parcel of land for about 25 years. He said he wants to live in peace with his neighbours and he is sorry that they feel threatened by him.
He also said that several of the incidents have been blown out of proportion, and in one incident he was simply cutting limbs from a tree that was touching his house roof.
"I want to live in peace too," Richards told SEARCHLIGHT on Thursday while noting that they want their neighbour to stop cutting down their fencing and being aggressive to them