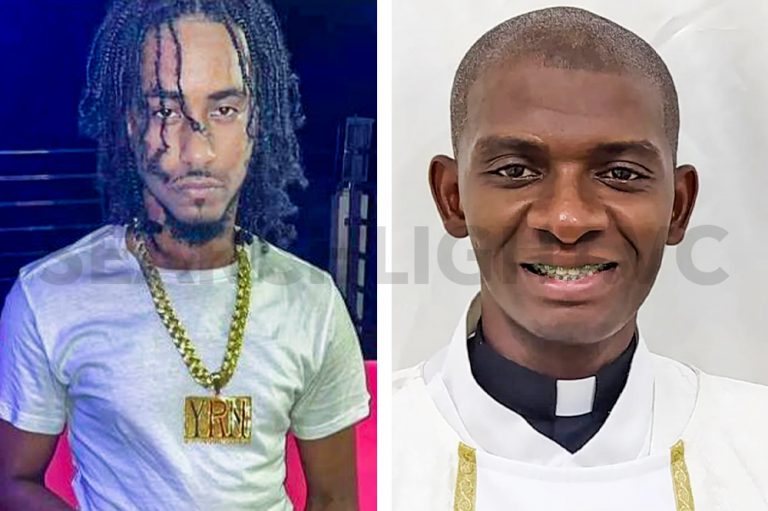 Priest urges forgiveness at funeral of mass shooting victim
A local Minister of Religion is urging persons to not seek revenge for wrongs that may have been done to them and to understand that death is not the end of life.
"The one who kill the other person would have to carry the guilt of the one who would have been killed.
"Same principle that is applied when you forgive your enemy, you free yourself from the guilt … if you do not forgive, God cannot forgive you. Forgiveness has been discovered to be one of the barriers hindering a lot of Christians in life," Father Peter Emmanuel said on Wednesday.
The priest also asked persons to believe in God and understand that while one may ask why He lets certain things happen, there is a reason for everything.
Father Emmanuel was speaking at the funeral service of D'ondre Rickardo Hillocks which was held at the Cathedral of the Assumption in Kingstown.
On Wednesday, July 19, Hillocks of Belmont; Lamont 'Dutchie' Hector of Paul's Avenue; Jamal 'Dutty' Bobb of Ottley Hall; Rickie Taylor of Long Wall; and Kashie Primus of Rockies, were gunned down while liming in the Harbour Club area of Kingstown.
Addressing the congregation, the Catholic Priest said that the release of the offender is a release of the offended.
"When you release the offender from your heart you are also released as well," he stressed, while adding that when a person holds someone in their heart no matter the wrong that is done to you, your blessing is held back.
"But when you release it to God and say God, 'I truly want to forgive, help me', God will help you. Forgiveness can only be done through the help of God.
"Humanly speaking it is difficult to forgive … how do you justify that someone had to cut your life short? But the good news is that none of us created ourselves, God created us and at a time like this when lives have come to a crossroad … we ask ourselves, 'God you knew about this. There must be a reason for allowing this to happen…," Father Emmanuel said.
The sermon was timely as after the mass shooting the Royal St Vincent and the Grenadines Police Force (RSVGPF) confirmed that they had received intelligence about possible reprisal killings and said they were directing their resources towards ensuring that the country's murder rate does not exceed the current 35.
The Priest said that prayer is powerful, and the best gift a person can give to the dead is prayer for them and their family.
"If God wants anything to happen, it will happen.
"I've seen a man fall from a 200 storey building and survived. I've seen someone trip his foot and died, and I have seen someone who was shot seven bullets and survived.
"God has a reason for everything. There are many things we don't have answers to until we are united with God in heaven," the Priest told the congregation at the Catholic Church in North River Road.
Hillocks who was also known as "Apache" and "YRN" was 24 when he was shot and killed, and Father Emmanuel said when he listened to his story, he likes the part that said "let's hold on to his sweet memory" and it was obvious he was loved when he was alive.
"I have attended funerals where there were only 10 persons, a few persons, the crowd this afternoon testifies to the goodness of God," Father Emmanuel said, while noting that some persons when they hear of death asks "why should this be?" but that God is loving and heavenly and hears one's cries and promises protection.
He added also that there is only one person capable of setting the limit to one's growth and that is you.
"Each one of us has been given a chance to choose life or death. There is a life that leads to eternal life. When we celebrate a funeral service it is not so much about death," Father Emmanuel noted, while adding that death is also about the living and an opportunity to remind ourselves where we are on our journey of life.
"Are you with God or are you outside of God. The easiest way is to say 'yes I don't believe in God' and it is a strategic plan for the devil to keep a lot of people ignorant, and no wonder they say that the greatest problem anyone could face in life is to be ignorant of the truth," the priest told the congregation.
He said that young people these days will bluntly say, 'I don't believe in God' to exonerate themselves from the moral conscience of feeling guilty whenever they do something wrong.
He said that persons should always make up their mind they are going to be a winner and make sure the time they have is well spent.
"God did not create us to live forever, only for a time, so be a winner and build your reality in Christ because death is not the end of life," Father Emmanuel stressed.
Hillocks was the son of Latoya Ottley and Monte Hillocks. He was a past student of the St. Martin's Secondary School and the Thomas Saunders Secondary School.