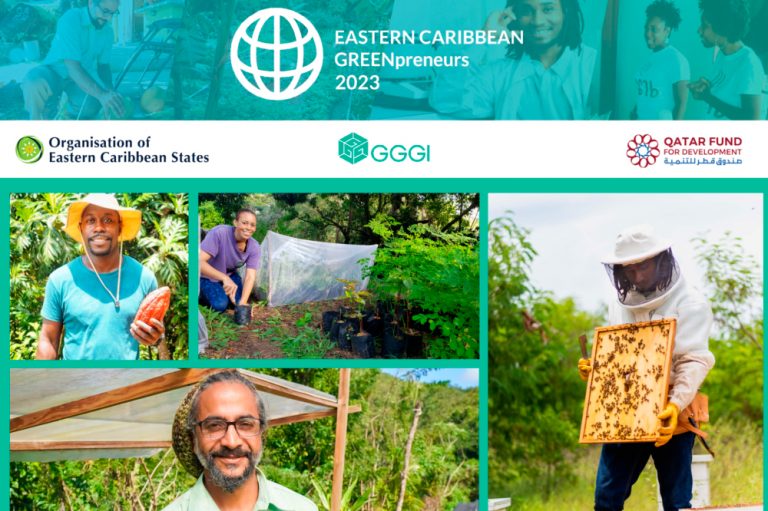 Three from SVG in Cohort Three of Green Entrepreneurs Programme
Three green entrepreneurs from St Vincent and the Grenadines (SVG) are among 24 who were selected as part of the third cohort comprising 43 promising green entrepreneurs (Greenpreneurs) from across the Eastern Caribbean region.
The Eastern Caribbean Greenpreneurs Incubator Programme announced in a release this week that it had made the selection of promising green entrepreneurs after a rigorous evaluation. The programme aims to nurture and empower environmentally conscious innovators who are dedicated to creating a sustainable and inclusive environment through their business models, the release states.
Applications from 120 businesses were received for the programme, however only 24 were selected after a rigorous screening, evaluation, and selection process, the release adds. The selection criteria sought to identify startups with a green focus, strong entrepreneurial mindset, high growth potential and a level of inclusivity among other considerations.
"We are thrilled to introduce the talented businesses who make up the third cohort of the Eastern Caribbean Greenpreneurs Incubator Programme," said Dr. Kristin Deason, Caribbean Representative, GGGI.
"These green entrepreneurs have demonstrated exceptional creativity, passion, and dedication to driving positive change in our region. We are confident that they will play a significant role in shaping a greener and more sustainable future."
The Eastern Caribbean Greenpreneurs Incubator Programme was launched in 2021 and is a collaborative initiative of The Global Green Growth Institute (GGGI) and the Organisation of Eastern Caribbean States. It is funded by the Qatar Fund for Development (QFFD). The programme is a free, carefully curated, training and mentoring programme designed to support green entrepreneurs in building robust and sustainable business models and give them the skills, tools, and confidence to set them up for success. It features a 12-week virtual green business training based on the lean start-up methodology, a mentorship programme, one-on-one coaching and networking opportunities culminating in a business plan competition where up to 10 businesses can qualify for grants of US$10,000.

The following are the Greenpreneurs that were selected:
| Name | Country | Business |
| --- | --- | --- |
| Juana McKenzie-Joseph | Antigua and Barbuda | rEvive Solutions |
| Enrique Williams | Antigua and Barbuda | Mim Mushroom Farm |
| June M Jackson | Antigua and Barbuda | GAPP – Garden of Vetiver |
| Collin Brown | Antigua and Barbuda | RAE.nrg |
| Shelly-Ann Meade | Dominica | Little Zion |
| Judy Pierre | Dominica | Nature's Finest Products |
| Kervin Vidal | Dominica | K. Vidal's Enterprise |
| Ryan Gittens | Grenada | Spice Isle Solar |
| Damali Phillip | Grenada | Just Juice |
| Jamal Mitchell | Grenada | Nature's Immunity |
| Rasheda Mason | Grenada | GoodLife |
| Hayden Redhead | Grenada | Home Grown Goodness |
| Kimberly Francis | Grenada | K & L Products and Services |
| Krisma Moore | Grenada | Mother Earth's Goodness |
| Corey La Touche | Grenada | Chai Garden |
| Jeune Guishard-Pine | St. Kitts & Nevis | St Kitts Beekeeper's Co-Operative |
| Eurta Chiverton | St. Kitts & Nevis | Kittitian Bloom |
| Rhonda St Hill – Blanchard | Saint Lucia | Regal Farms |
| Johana Moise | Saint Lucia | Crown Farms LTD |
| Bernice Gaspard | Saint Lucia | Gaspard Agro & Processing Farm |
| Shena Nathaniel | Saint Lucia | XENN |
| Shane Compton | St. Vincent & the Grenadines | SVG Microgreens |
| Mykala Bacchus | St. Vincent & the Grenadines | Glam Skincare |
| Julieanna Noel | St. Vincent & the Grenadines | Black Orchid SVG |