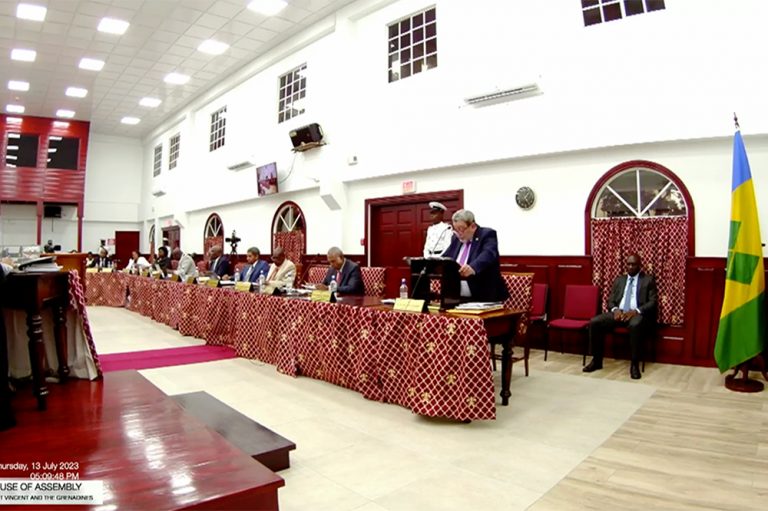 Parliament holds first sitting in new building
Twenty-three members of the House of Assembly conducted their first sitting in the temporary building at Calliaqua on Thursday, July 13. The $5.5 million facility is expected to house the Parliament for the next two years.
At the opening ceremony on Thursday, July 6, Member of Parliament for the East St George Constituency and Minister of Finance, Camillo Gonsalves, revealed that the upgrades to the work space for the Parliamentarians and staff also extended into the surrounding community which saw seven houses in total being refurbished in collaboration with the Ministry of National Mobilization, and the Ministry of Works.
The building features an office for the Prime Minister and one for the Leader of the Opposition, a conference room and other modern amenities. Minister Gonsalves said the "new home" for the House of Assembly, when vacated, will be transformed into a dormitory for students who reside far north, or in the Grenadines to stay while completing their studies at the St Vincent and the Grenadines Community College.
The replacement for the 200-year-old Parliament building in Kingstown was constructed through funding from Taiwan.
The Speaker of the House, Rochelle Forde, described the move as a significant moment in the parliamentary growth and development of St Vincent and the Grenadines (SVG). She also said the new building will provide a more conducive environment for parliamentarians and staff to conduct their work.
Yesterday's sitting opened with the usual congratulatory remarks and messages of condolences, as well as the swearing-in of the new Minister of Urban Development, Energy, Seaport Administration, Grenadines Affairs and Local Government, Bernarva Browne.