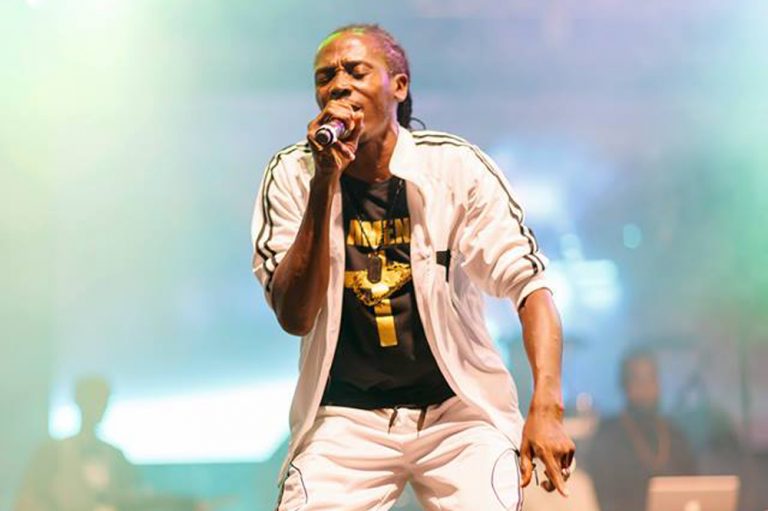 Fireman says he is about culture, not winning and competition
Taking part in competition and events linked to Vincy Mas is not about money or fame for Delroy "Fireman" Hooper.
"Yes, everyone would like a raise … but you have to ask yourself many questions when you're talking about more money… I do it for the culture and for the people, Fireman told SEARCHLIGHT on the back of his retention of the Power Soca Monarch title.
"For me, it's about keeping Vincy Mas alive and the culture alive. It's not about the competition."
He was speaking on Wednesday, one day after the end of official activities marking Vincy Mas 2023.
Hooper is the 2023 National Soca Monarch, having taken the top spot last weekend in the competition that began on Saturday night, July 8, and ended in the wee hours of Sunday morning, July 9.
The undisputed local king of Power Soca won his 12th crown with a song called "Madness". In second place was Kahm 'Fligh' Haynes with "Farmer", and third Kemmy Christopher with "Spirit of Carnival".
Fireman said he will always be a part of Soca Monarch once he is able to compete. His aim is 24 wins.
"It is written on the walls. I'm going to win 24 times. I have a lot of years to do and my participation in music is not about competition. It is about the work, the culture. What is more important than getting Vincy Mas done in the right way?" Fireman questioned on Wednesday.
The veteran performer said a lot of the new artistes are caught up with competition and when they don't win one year, they don't return the next year.
"Are you doing culture or competition? Are you an artiste or are you just messing around with the culture?
"It's not about winning, it's about keeping the culture we love and carrying it forward and handing it down to different people who want to keep it alive," the Soca Monarch reasoned.
"… Back then when we started, the money was a small incentive.
"Yes everyone wants a raise of salary and we understand that, but if Soca Monarch is $40, $50, $60 and we move the prize money, are we willing to pay $200 at the gate?
"If we are talking about raising the prize money, we still have to talk about where the money will come from," Fireman stressed.
This year, the show was boycotted by a handful of artistes over demands for increased prize money and appearance fees.
Fireman said that in his view, "winning will be a forever thing" for him because he understands the competition, knows what it takes to win and how simple it is to win.
"But to make it clear once again, my entertainment life is not about competition. You have to remember also that I am an ambassador, and I think that I have to partake because this is what gave me my diplomatic passport.
"The people and government gave me that because of culture, and I see people who got diplomatic passports and don't want to participate … that is why they gave us…," Fireman added.
"I got it through culture and now that culture happening, they don't want to participate. A whole heap ah them get it and they playing stubborn with it so it's not about me," Fireman stated firmly.
The 12 time winner said he has been winning for a long time and winning is about focus.
"I have been there the longest, and people have to understand if even I win I am the same person, and if I lose I am the same person and it does not get to my head…".
He said Vincy Mas never ends for him as his overseas bookings has him always focused on music, performing and being a cultural ambassador.
In relation to the music this year, Fireman said several songs, some of them very popular, were in his view, poorly written, not well conceptualized, and extremely vulgar with no attempt at hiding the obscenity.
"There are different ways to put vulgarity…," Fireman said while specifically mentioning a song by foreign artistes "Kenny G", "Pudaz", and "Dova", called "Push your hand in your…".
"That is for the young ones, and now everyone feel they can do that (write a blatantly vulgar song) and these songs don't have no meaning. I don't like it," Fireman stated.
He added that while Alston "Becket" Cyrus has a song- "Tone" and he (Fireman) had "Anaconda", and "Push up D wood", these songs were well written and the meaning left to the imagination of the listeners.
"As I am saying, it is not that you cannot write them, it is the way they are put together. Some of the concepts are good but they have to stop at a certain point because first time days you would get sanctioned.
"Adrian Bailey use to tell you straight up, he not recording songs that are not well done, but now everyone has a studio … in their bedroom and you might say I fighting them but it's not that, you have to put it right, that's all I am saying."
He said he writes songs with Maxwell "Tajoe" Francis and they do a lot of scrutiny when it comes to their lyrics as they are writing for people and not for themselves.
"… Music is like a buffet luncheon and if you ever go to a buffet, you take up what you want and that is what I like to compare it to".
This year Fireman was dethroned in the National Ragga Soca competition. He placed third.
When asked about this, he answered, "the judges are the judges and that's it."
This year's Soca Monarch competition also saw performances from 14 other contenders.