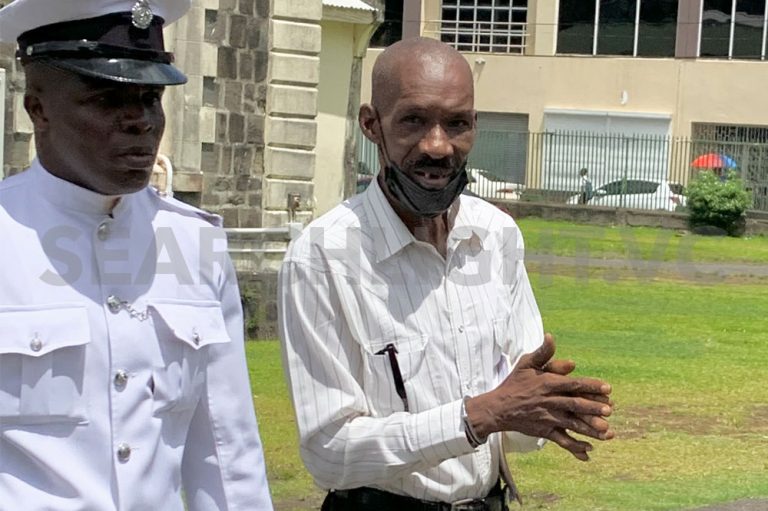 From the Courts, News
June 23, 2023
Taxi man jailed for causing death of elderly woman by dangerous driving
A taxi operator with over 19 years of driving experience was sentenced to nearly two years in prison for causing the death of an elderly woman by dangerous driving. Fifty eight year old Cordell "Papa Niceness" Roberts, was on June 21, sentenced to one year and 10 months in prison when he appeared at the High Court #1 for sentencing.
However, having spent one month and 25 days on remand, Roberts will now spend one year, eight months, and 25 days behind bars.
On May 10, Roberts was found guilty of causing the death of 74 year old Adina Dover by dangerous driving after a nine member jury returned a guilty verdict.
Summarising the facts, Justice Brian Cottle said that on December 16, 2019, three women were crossing James Street in Kingstown at around 5:30 p.m. There was a police officer on traffic duties at Forester's Corner, which was less than 100 meters from where the pedestrians were crossing.
A driver in one lane stopped to allow the women to cross, and the prisoner who was driving a Toyota Noah, stopped alongside that vehicle. Two of the women crossed and when Dover was in front of the vehicle, Roberts accelerated and struck her; she was dragged by his vehicle for some distance. When the vehicle came to a stop, Roberts was instructed to take the woman to the hospital where she was warded in the Intensive Care Unit. She died three weeks after the accident.
Roberts said that he had only seen the other two ladies and had no idea where Dover came from.
Cottle told the court that Roberts worked as a tour guide/taxi operator within the public service and that he had been the holder of a driver's license for 19 years.
When Cottle assessed the sentencing guidelines, with respect to the seriousness of the offence, he said that Dover was a vulnerable road user and Roberts was driving while being distracted. As a consequence, he caused the death of the woman.
The judge had a starting point for the sentence of two years and four months.
Aggravating of the offence, the judge found that Roberts was distracted and did not see Dover; while mitigating he found that Roberts took prompt action to get the woman to the hospital.
Mitigating of him was the remorse he showed, that he had no previous traffic related offences, and he kept checking on the victim before she died from her injuries in hospital.
The mitigating factors outweighed the aggravating and his sentence was reduced by six months.
The judge then considered whether or not the offence attracted a custodial sentence. In keeping with the guidelines, after his deliberation Justice Cottle noted that their is no escape from the fact that a life was lost. As a result, Roberts was given a prison sentence, and his drivers license has been suspended for three years.
Defense Lawyer Kay Bacchus- Baptiste, who had recently taken up the case mitigated on behalf of Roberts.
She described the incident as one that was clearly an accident and she noted that accidents can happen to any driver.
The lawyer said that Roberts came to a stop to allow the other females to cross and had he seen the third woman, he would have allowed all three women to cross. Therefore, he was not driving in a matter that he could not stop. She also noted that there is no pedestrian crossing in the area.
Counsel Maria Jackson-Richards, appeared for the Crown.