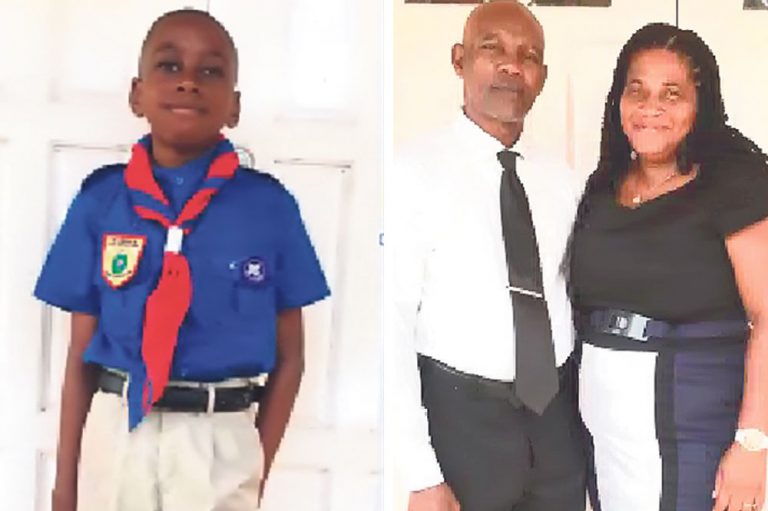 Top performer for Pamelus Burke Primary 'is an outstanding student'
The principal of the Pamelus Burke Primary School Jasmine Spencer, has described Kalvid Lampkin as a student who is always outstanding.
Therefore it came as no surprise when Kalvid emerged the top CPEA performer for the school, located in Byera.
The young lad had a total of 90.2% in the exams and placed 41st for boys and 75th overall.
Kalvid scored 58/75 for Language Arts; 70/75 for Math; 60/75 for Science and 65/75 in Social Studies.
For his School Based Assessment, Kalvid got full marks 45/45 in Math, Science and Social Studies. He also got 64/65 in Language Arts.
"I feel very happy about my results," Kalvid told SEARCHLIGHT.
"I wanted to do better, but I did not do enough work," he admitted.
Kalvid was hoping to place third, but had some distractions as the exams approached.
The top performer has his eyes on becoming a scientist.
"I want to invent things," he said when asked the reason for his chosen career.
Kalvid said Math is his favourite subject and he was confident that he had aced that subject in the CPEA.
He is thankful to God, his parents and teachers and all others who helped him along the way.
His mother Calesia Lampkin, also expressed gratitude to educator St Clair Dos Santos, for helping Kalvid with past papers and giving him extra lessons.
The mother also joined in giving thanks to God, and also thanked her church family for their prayers.
Kalvid 's good results have come as no surprise to her.
"It is something that I had expected, even though I know he has the ability to do better."
Kalvid 's mom believes that he could have done much better if he had put more into his studies.
She acknowledged that at times he was distracted by his tablet, and there were times when she had to take away the gadget from him.
Kalvid is the 4th of six children and his mother believes that he is very capable of great achievement in the future.
Kalvid, a resident of Colonaire, is also the son of Vibert Lampkin, a retired teacher and former first vice president of the St Vincent and the Grenadines Teachers Union (SVGTU).
Speaking to SEARCHLIGHT about his son's performance Lampkin said "He always wanted to go to Grammar School and I am happy that he got his wish."
The retired educator admitted that his son is "naturally bright," and echoing the words of the school's principal said "Kalvid is always outstanding."
Spencer is also celebrating the school's overall success of the school in the CPEA.
She said 16 of the 18 students who wrote the CPEA were successful.