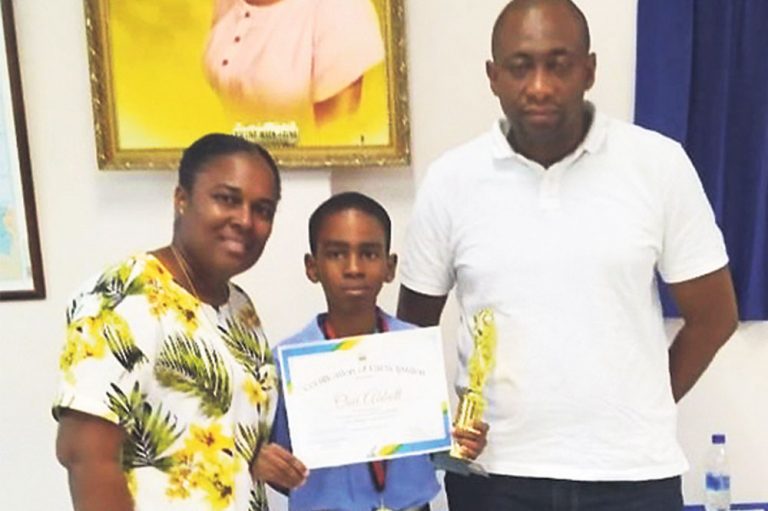 Osei Abbott helps Georgetown Government School attain best CPEA results in the past five years
Osei Abbot, who is this year's top CPEA performer for the Georgetown Government School, aiming to help to make this world a better place.
With this goal in mind, 11 year old Osei already has his mind set on becoming a medical doctor, so that he can help people who are sick and hurting.
"I want to contribute a lot towards society," Osei told SEARCHLIGHT.
The youngster who resides at Chili Village, Georgetown, placed 11th for boys and 14th overall in the 2023 CPEA.
"I am feeling very excited but I am not really surprised about my performance."
Actually, Osei was expecting to do much better.
He scored a total of 94% overall.
In the recently concluded exams, Osei got 71/75 in Language Arts,69/75 in Math, 68/75 in Science and 69/75 in Social Studies.
In the School Based Assessment, he got 62/65 in Language Arts,44/45 in Math and Science and 43/45 in Social Studies.
Osei is thankful to his family and friends, and all those who contributed to his success, especially his teachers Miss Charles and Miss Pitt Mc Donald, as well as Mrs Toney and Miss Henry for extra lessons.
His mother Shemorn Abbott, spoke to SEARCHLIGHT about her 11 year old son who is the second of her two children.
Although she is excited about his performance, the joyful mother said she was not surprised by the results.
"This didn't catch us by any surprise.
"We knew all along that Osei would have done extremely well. He was always consistent throughout his primary school years," she said.
"Osei is a well disciplined and focused student."
His mother also describes him as self driven and always motivated to learn.
While he loves his books, there was a time when Osei was also involved in swimming.
This activity was however cut short by the onset of the COVID-19 pandemic.
Osei comes from a home where both his parents are teachers.
His mother teaches at the Georgetown Secondary School, and his father Deighton Abbott, teaches at the Georgetown Technical Institute.
Abbott told SEARCHLIGHT that he is very proud of his son.
He said he is working with Osei now to help him get the right mindset for secondary school.
Principal of the Georgetown Government School, Angene James, also expressed delight in the performance of Osei.
She said this year 51 student from the school sat the CPEA and only two students did not meet the required standard.
Of the 48 who met the requirements, 22 are boys and 26 girls.
James said she is happy with the results noting that they are the best results for the Georgetown Government School in the past five years.