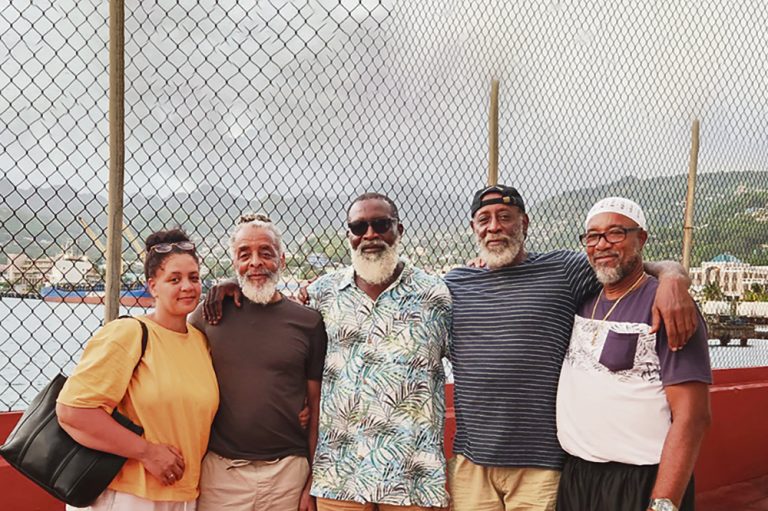 Adopted UK woman finds Vincentian dad after 40 years
by Christina Smith
From the time Libby Kolin was young, there was a question swelling inside her; a deep longing to find the missing puzzle pieces of her parentage.
The 44-year-old UK citizen was told at an early age that she had been given up for adoption. Based on information documented by social workers and her physical appearance, Kolin deduced that she was of mixed race and her father was most likely of Afro-Caribbean descent.
The question would be answered more than four decades after her birth, and lead her to the leeward town of Barrouallie in St Vincent and the Grenadines.
SEARCHLIGHT sat for an interview with Kolin, the newest member to be welcomed into the Ash/Caesar/Charles family and her father, Michael Charles.
"I don't know what it is like to know where you come from or know your heritage and your birth parents. I didn't even know if I was half-black or quarter black.
There were some things that were missing that I needed answers to. From my birth mother I knew I came from Essex in England, but I didn't know what my Caribbean heritage was, I just knew I was half-Caribbean."
Kolin's adoptive parents fully supported her quest to locate her birth parents and as a Christmas gift in 2021, she received a DNA ancestry kit. Ancestry tracing allows people to locate DNA matches to those who have also entered their DNA into records. Within a couple weeks a match was found- a first cousin Kolin had been informed. She reached out to this cousin with fingers crossed.
But the first cousin would actually turn out to be Kolin's uncle, Bert Caesar, who had also used an ancestry kit hoping to discover from what part of the continent of Africa his ancestors originated. With his background in security, Caesar said he initially read the email from Kolin with some degree of scepticism. But there were some critical details mentioned that would alert Caesar to the authenticity of the sender and close the 44-year gap between his brother and his niece.
"While we were in St Vincent I forgot all about Ancestry.com. All of a sudden I received an email stating that somebody was trying to get in touch with me. The wording and what the person said to me … 'I am looking for my father'. She mentioned his nickname 'Dixie', that he was a mechanic, and he is of Caribbean heritage.
I knew straight away it was my brother!"
The wheels of the reunification story started moving quickly with Caesar contacting his brother as well as the other siblings to share the wonderful news. The father and daughter would connect firstly by telephone and just six months later, they, and the rest of the family who had migrated from SVG would be back on home soil to welcome Kolin with open arms.
"I don't think I expected to have such a close connection so quickly, so that was an added bonus. Initially I just wanted to know where I came from. I wasn't expecting to have such a strong relationship out of it," Kolin admitted.
Kolin and Charles landed at the Argyle International Airport on June 7 to teary hugs and smiles.
Charles explained that he and Kolin's mother had a short relationship back in 1978, when Kolin was conceived. They would lose contact when they both relocated to different areas and Charles said he had no way to track down Kolin's birth mother. Years passed and during that time he would confide in his younger brother, Bert Caesar, about the love he had for his daughter and how he hoped to find her.
He would get his wish and more, as the revelation has not only allowed the father and daughter to reconnect but also has seen her being introduced to her many aunts, uncles, cousins and in-laws.
"We have a good relationship because I speak to her more or less everyday. We have seen most of the family," Michael Charles said.
Charles' older brother and second born of the eight siblings, Keon Ash, said the reuniting has brought his 'little brother' back to SVG more than 50 years after they left Barrouallie in the 1960's to head to London to meet their parents, Margaret and Reginald Ash.
Ash called his 'little brother' the "missing piece" of the family puzzle.
"My mum before she died told us the family has to come together. [Michael] was the missing link. Years ago he went away, so now my brother Bert has brought everybody back together."
Ash said he is happy to build a relationship with Kolin and he marvels at the physical similarities between his niece and his own mother.
The family told SEARCHLIGHT they intend to make the most of the island trip and guarantee that Kolin builds a connection with all her relatives.