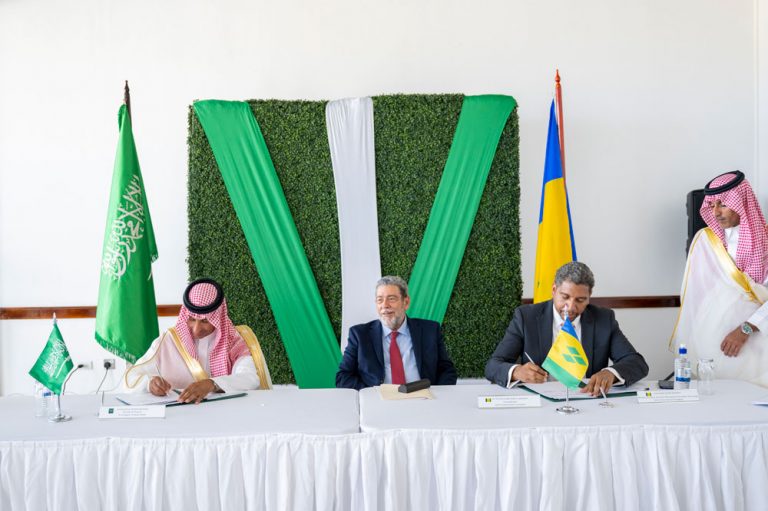 Saudi Fund for Development signs $16 million loan agreement with SVG
Saudi Arabia on Friday, May 26 signed two loans totalling EC$16 million with the Government of St Vincent and the Grenadines (SVG) to undertake projects in South Rivers and Belle Vue.
This was in keeping with the implementation of directives of the Custodian of the two Holy Mosques, King Salman bin Abdulaziz Al Saud and Crown Prince and Prime Minister, Mohammed bin Salman Al Saud. The loan provided by the Saudi Fund for Development (SFD), was signed with Minister of Finance, Camillo Gonsalves, in the presence of Prime Minister Dr Ralph Gonsalves; and Chairman of the Board of the Saudi Fund for Development, Ahmed Al Khateeb, a release from the Fund states.
The loans are for the construction of a primary Care Center in the South Rivers area and a Cultural Center of Arts in Belle Vue.
The signing of the agreements is part of the efforts undertaken by the Kingdom of Saudi Arabia, through the Saudi Fund for Development (SFD) to support sustainable development in developing countries and Small Island Developing States (SIDS) around the world. With decades of expertise since its establishment in 1974, SFD has implemented more than 700 development projects and programmes in 85 countries worldwide. Thus, the signing on May 30, marks SFD's first presence in St Vincent and the Grenadines, making it the 86th country to receive funding for a development project from SFD. The agreements align closely with SFD's goal of supporting the healthcare and social infrastructure sectors.
The first loan agreement for the construction of the primary care center in South Rivers, worth $6 million, will contribute in enhancing the quality of the healthcare sector, ensuring that the local population has access to healthcare services, managing chronic diseases and potentially reducing mortality rates in the region. The project will, furthermore, create direct and indirect job opportunities, in addition to training medical staff and helping to strengthen long-term healthcare capacity and resilience.
The second loan agreement, worth $10 million, is for the construction of a cultural artistic hub and market for craft and agricultural products in Belle Vue. The project will promote the nation's craft, handicraft, cultural and creative industries, making important contributions towards boosting tourism and the economy, while also supporting health and well being, promoting social inclusion and enhancing social capital.
Moreover, the projects will contribute towards the realization of the United Nations' Sustainable Development Goals (SDGs), specifically SDG 3, Good Health and Well-being, and SDG 8, Decent Work and Economic Growth.
Speaking at the signing ceremony, Prime Minister Gonsalves, said: "The Kingdom of Saudi Arabia is a staunch supporter of this country and a vital leader in the Middle East. St. Vincent and the Grenadines has been seeking to further boost relations for some time, building on earlier relations dating back to the governance of Milton Cato."
And, the Chairman of the Board of Directors of SFD Ahmed Al Khateeb, said: "Today marks an exciting and bright chapter for both of our countries, having signed the first projects in Saint Vincent and the Grenadines. This cooperation signifies the Kingdom of Saudi Arabia's commitment to promoting sustainable socio-economic development in developing countries and SIDS, and supporting the achievement of the United Nations' Sustainable Development Goals (SDGs)."