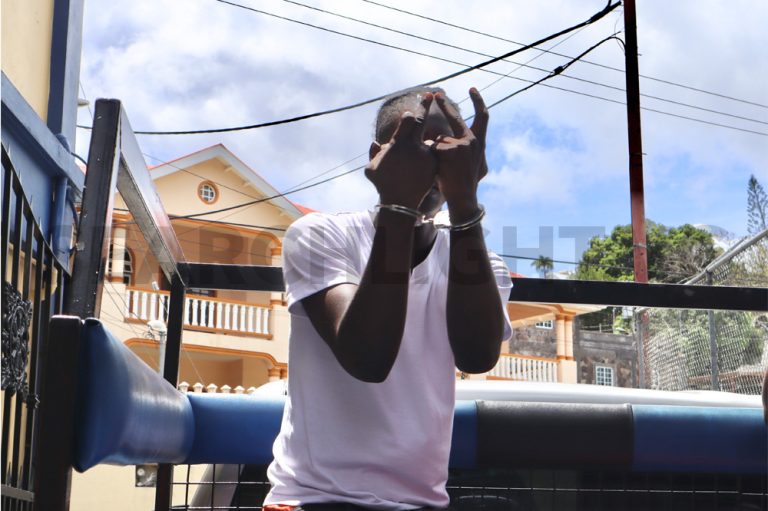 From the Courts, News
May 30, 2023
'Disrespectful' youth sentenced to three years, nine months for assault
A 20 year old male who displayed behaviour in court that was deemed aggressive and disrespectful was sentenced to three years and nine months in prison for boxing his ex-girlfriend.
The unmannerly conduct exhibited by Giovannie 'Javy' Grant at the Serious Offences Court on May 23, after he was found guilty of assault led to the conclusion by Chief Magistrate Rechanne Browne that it was anger and aggression.
After a full trial, the Ottley Hall resident was found guilty for assaulting Reaa Pierre of Evesham causing actual bodily harm.
The young man who told the court that he gambles for a living, may well spend additional time behind bars for breaching a one-year bond for another offence committed in March this year.
As a result of the breach, the chief magistrate ordered him to pay $1000.00 forthwith or he will spend an additional three months in prison.
Grant, who was fined $500.00 on his previous conviction was also ordered to pay both amounts by May 31.
Browne told Grant that if the money is not paid by May 31, he will spend an additional six months behind bars.
As evidence was being presented during the trial by the victim, her current boyfriend and investigator PC 979 Gabriel Jack, the prisoner kept a still tongue.
He had no questions for them, and he also chose not to detail his version of the events.
The court heard that Grant and Pierre were in a common law relationship. On May 15, at around 10:30 a.m, Pierre was sitting in a car at Little Tokyo,Kingstown with her current boyfriend, Addamski Waldron.
Shortly after she saw Grant and decided to lock herself in the vehicle to avoid contact with him.
Grant began calling Pierre names. He then left but returned with another person and tried to open the door of the vehicle, but it was locked.
As a result, Pierre made a report at the Central Police Station and Grant, who was also at the station, was warned not to interfere with her.
After the woman left the police station, she went to meet her boyfriend in the area of the Courts building where she was confronted by Grant.
The prisoner struck her on the left side of her face with his right hand causing her to hit her head on a nearby wall. The woman reported the matter to the police. PC 979 Jack entertained her report and issued her with medical forms to visit the doctor. Grant was later arrested and charged.
After he was found guilty, the young man began shouting and making unsavoury comments about the victim.
The magistrate warned him of his conduct and reminded him that he had previous convictions and other matters relating to the virtual complainant at the Kingstown Magistrate's Court.
"You are right in court and you have no discipline, you have no regard for law or authority, you don't care."
In relation to the assault charge, she also told him that people have choices, and those choices should be respected.
The prisoner then shouted " I done make up my mind to do my time."
Browne pointed to his arrogance and told him she was noting his behaviour in red ink, as she knows that he will appeal his sentence, therefore, she is taking notes.
His response was "Me na business".
When prosecutor Station Sergeant Renrick Cato, made his sentencing submissions, he highlighted the prevalence of domestic violence and asked that a custodial sentence be imposed, noting the serious nature of the offence, the words spoken before the commission of the offence, the fact that the police intervened and warned Grant before the offence, and because of where the victim was struck.
Cato said that there must be sufficient time for Grant to reflect on his foolish actions in order for him to accept that Pierre has moved on.
Cato complimented Pierre's boyfriend for restraining himself when she was assaulted after persons who were present spoke to him.
When Browne assessed the sentencing guidelines, she started at a sentence of two years and three months.
She found aggravating of the offence, the time of day it was committed, and it was done at a public place. She said that moments before, Grant was warned by the police not to purse aggression.
Browne also found aggravating that Grant has blatantly disregarded the law, and law enforcement officers. She also noted as aggravating, the areas of the body that were impacted.
In addition, Browne noted that domestic violence is too rampant, that the victim is vulnerable, that he has repeatedly attacked her, and she expressed fear of him in court.
Also aggravating was that threats were made against the woman outside the court and while Grant was in court, and physical attempts made to get at her, as well as his language used towards the victim.
There were no mitigating factors of the offence. As a result, the sentence was increased by one year.
Aggravating of him as an offender is that Grant has previous convictions, the last one being of a similar nature.
Browne said the offence was also committed while he was on a bond, and he has other matters relating to the same woman. Grant also showed no remorse in court, and the magistrate also highlighted some of the words that he used during the proceedings.
She highlighted that he uttered to the victim and the witness, "I would have to come out of jail", saying the court viewed this as a threat, as it suggests that he will attack her.
She further highlighted his outburst in court and said he showed disregard for people and authority.
Mitigating for him was his age.
His sentence was increased by six months due to the aggravating factors of him as an offender.