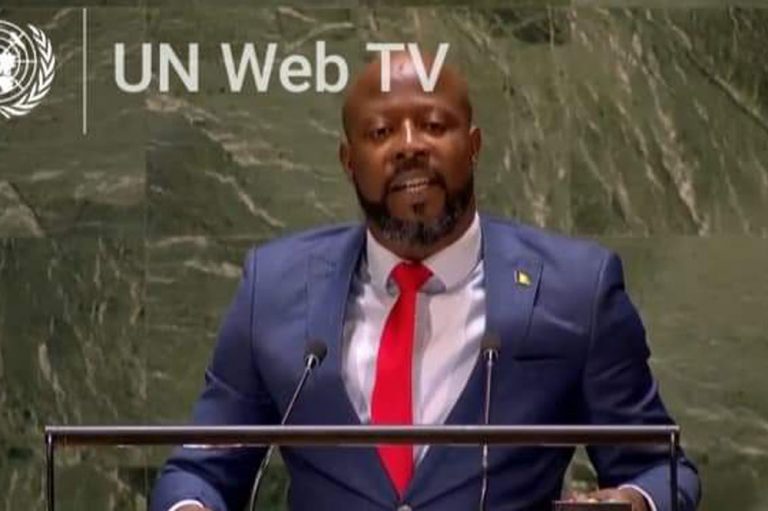 Tourism Minister makes case for support to Small Island Developing States at UN forum
St. Vincent and the Grenadines has urged United Nations Member States to prioritise addressing financing gaps and mechanisms to provide support and resources for early preparedness as Small Island Developing States (SIDS) continue to grapple with the adverse effects of climate change and associated risk.
Minister of Tourism and Sustainable Development, Carlos James made the call at the High-Level Meeting on the Midterm Review of the Sendai Framework for Disaster Risk Reduction held at the United Nations General Assembly in New York on Thursday, May 18.
The meeting brought together leaders from all sectors to discuss disaster risk reduction and its role in accelerating the implementation of the 2030 agenda and other key inter-governmental frameworks.
In his statement to the UN General Assembly, Minister James urged leaders to focus on accelerating disaster risk financing as it is inextricably linked to the broader framework of reforms needed on international development financing.
According to Minister James, recognising the critical nature of disaster risk reduction, St. Vincent and the Grenadines continues to commit significant resources across the spectrum, from disaster preparedness to recovery, strengthening its management of disaster risk reduction programmes, while exponentially increasing investments in all aspects of resilience.
"My country remains committed to pursuing partnerships at all levels to tackle these challenges … we must ensure a better alignment of these frameworks with climate change adaptation to effectively reduce risk and build resilience," Minister James said.
The Sendai Framework focuses on adopting measures that address the three dimensions of disaster risk (exposure to hazards, vulnerability and capacity, and hazards characteristics) to prevent the creation of new risks, reduce existing risks and increase resilience.
Since the adoption of the Sendai Framework, St. Vincent and the Grenadines has focused on resilience, making it a key component of its policy agenda as it recovers from multiple natural hazards and the explosive eruption of La Soufrière volcano.
The High-Level Meeting provided a platform for Member States, the United Nations system partners, and other stakeholders to reflect on the findings and recommendations of the Midterm Review, examine context shifts and emerging issues since 2015, and identify course corrections and new initiatives to more effectively address the systemic nature of risk, and realise the outcomes and goals of the Sendai Framework, the 2030 Agenda for Sustainable Development, the Paris Agreement and other agreements, frameworks, and conventions. (API)