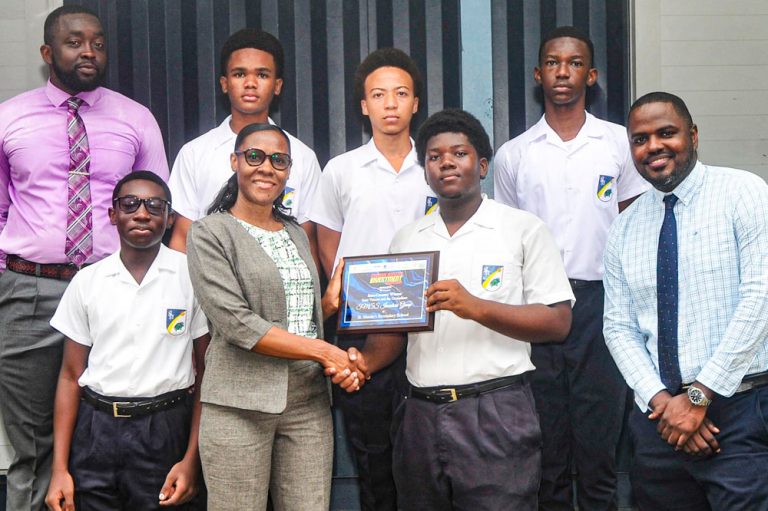 St. Martin's are local champs of regional schools investment competition
The manager of investments at the Bank of St. Vincent and the Grenadines (BOSVG), Laurent Hadley on Monday presented the winning plaque to the St. Martin's Secondary School, for being the local winners of the St. Vincent and the Grenadines leg of the intra-country segment of the Regional Schools Investment Competition.The competition was held from February, 27 to March, 3, 2023.
Speaking at a brief ceremony yesterday, May 22, Hadley told the assembled students that he and his team came to show appreciation to the school for
"You guys are the first group to participate in a competition like this and the first winners in such a competition."
Also receiving special mention was the school's head of the business department, Asheika Charles who according to Hadley, "put a lot of effort into this."
In applauding the efforts of the team, the BOSVG official said "You guys did really well. It was a lot of back and forth, you embraced it."
The team from the SMSC who took part in the ECCB Regional Schools Investment Competition are: Arron Dennie, Obediah Mayers, Royon Handy, Diajon Gibbs, Criston Veira, and Kyron Quashie, with Asheika Charles the supporting teacher.
Hadley who was accompanied by Tabisha Joseph, ECSE officer – BOSVG and Gavery David, First Citizens Investment Services; explaining the rationale behind the competition, said "what this was about was to bring awareness to the local stock exchange and the regional stock exchange".
"I know some of you guys might already be exposed to a bit of online trading, crypto currency, but this is just to show you that there are opportunities within the region so when you get of age you can grow your wealth, and you can even tell your parents about it."
The Regional Schools Investment Competition (RSIC) was created to be a dynamic learning experience for high school and first-year college students by introducing them to investing, while providing the opportunity to experience securities market activity first hand. The initiative, which is a collaborative effort of the Eastern Caribbean Securities Exchange (ECSE), the Eastern Caribbean Securities Regulatory Commission (ECSRC), and licensed broker-dealers, aims to stimulate an interest in investing among young persons and to create a pathway for young investors to become active market participants in the future.
VFCSS Invest of View Fort Comprehensive Secondary School of Saint Lucia went on to be the regional champions of the competition, having won the Saint Lucia intra-country segment.