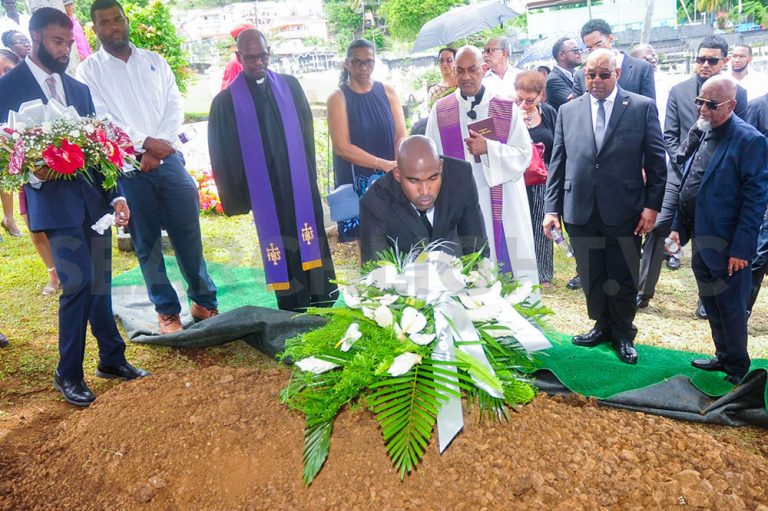 Garth Saunders – A man who served country above self
The funeral service for Garth Saunders, who has been described as one of this country's best engineering minds, was an outpouring of praise for the 'Jack of all trades, master of each'.
Saunders's life, as noted in the tributes from family and friends at the service on Tuesday, May 23, was one dedicated to serving the people of St Vincent and the Grenadines (SVG) and the wider Caribbean both in the civil service and the private sector.
During his professional career which spanned the years 1985 to 2022, Saunders held numerous titles including chief executive officer of the Central Water and Sewage Authority (CWSA) where he served for 18 years, resident Engineer on the Cumberland Hydroelectric Project for the St Vincent Electricity Services (VINLEC), Chairman of the National Stadium Project, as well as Manager of the local Goddard Group of Companies.
Eulogized by son
Saunders's son, Shaun, described his father as a "problem solver" whose talents allowed him to master multiple disciplines.
"It explains the scores of persons … who have expressed that deep admiration for a man they consider a great leader and mentor. GEMS was remarkable, yet he was a simple man. He was a jack of all trades, master of each."
Shaun said he believed his father's legacy will "outlive us all" as his focus was always on advancing whichever organization he was employed in at the time.
"He once explained to me that the reason he worked so tirelessly was because he strived to be the best engineer in SVG. He was never just working for a pay cheque, or even just to provide for his family. He went above and beyond because he truly cared about the quality of his work, and improving the lives of the people of St Vincent and the Grenadines."
Drawing a quote from the Hollywood movie, Black Panther, Shaun applauded his father for his dedication to family.
"A father who has not prepared his children for his own death has failed as a father. And just in case you haven't gotten the picture yet, my father failed at nothing."
Remembered fondly by sister
Saunders's sister, Michele Saunders-Clavery, delivered a moving tribute, recounting each time he greeted her at the Argyle International Airport, where he served as the Director of the International Airport Development Committee and Chair of the board of directors of the Argyle International Airport.
"On my second visit I landed with my family. This time, I boldly assumed the role of tour guide, confident in my ability to show off and explain my brother's handiwork. I pointed here and there, as we made our way to Immigration behaving as if I were appointed assistant to the principal engineer of AIA."
Michele said she was in awe of Saunders' "prodigious contribution" to SVG which became ever clearer after his passing.
"Sunday, May 14, marked the beginning of the end. And following that day I found myself back on a plane to St Vincent. This time, there was no assumed tour guide role to play … I dissolved into uncontrollable sobbing as the plane touched down at AIA."
Saunders legacy to live on at CWSA
General Manager of the Central Water and Sewage Authority (CWSA), Winsbert Quow proposed at the funeral service that the water intake at Perseverance catchment be named in honour of the late Garth Ewart McKenzie Saunders (GEMS) who was particularly proud of the work done on that facility.
"His crowning achievement during that five-year stint was the design and construction of the Perseverance Water Treatment facility, which now serves approximately six per cent of our population from Byera to Orange Hill. I'm gonna propose that we just not name it Garth Saunders, but GEMS just because he loved his full name, right. But I will propose it to the Board and hopefully I'll get their support, because I think it would be a fitting way to remember him."
Quow said the CWSA staff remembered Saunders' devotion to the organization and his drive to improve all aspects of its operations, particularly, its customer service.
"I remember him reminding the staff repeatedly, that ultimately what we offer is not the delivery of water, sewage, and sorry- services but customer service. We understand this to mean that whatever we do … we must make sure that at the end of the day, we try our best to meet the expectations of our customers," Quow said reading from a tribute written by an employee.
Saunders was laid a little over a week after he passed away on May, 14, at age 63. The service was held at the Kingstown Methodist Church and officiated by Reverend Philbert Delaney, Superintendent Minister of the Kingstown/Chateaubelair Circuit of the Methodist Church.