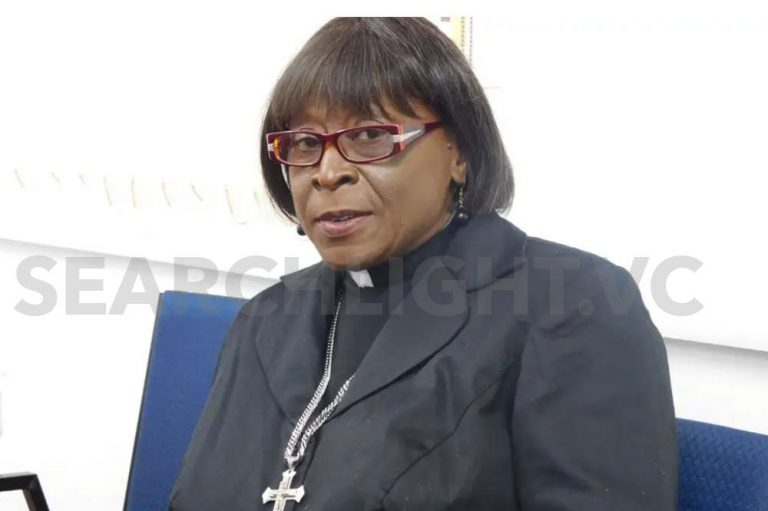 Anglican Priest laid to rest
A woman who dedicated her life to the service of God, the Anglican Church and her fellow man was laid to rest on Monday, May 22.
Alison Margaret Samuel, who at the time of her death was priest for the parish of St Patrick, St Vincent was the first Vincentian woman to be ordained priest in the Anglican Diocese of the Windward Islands.
She died on Sunday, May 7, 2023 at the Milton Cato Memorial Hospital after a brief illness.
As priest in the Parish of St Patrick, Reverend Samuel had responsibility for several churches: St Patrick Parish Church, Barrouallie; St David, Chateaubelair; Our Lady of Perpetual Succour, Spring Village; St Mary Magdalene, Couills Hill; and All Saints, Rose Bank.
She was ordained deacon in the Diocese of the Windward Islands on December 18, 2013, and ordained priest on August 28, 2019.
Earlier in her life, Reverend Samuel had a successful career as a civil servant, rising to the rank of Deputy Registrar, Non-Professional in the High Court Registry, Kingstown. She also served as Registrar, International Business Companies and Registrar of International Trust and Examiner, Offshore Banking Companies. She was also a Justice of the Peace.
Over the years, Reverend Samuel served the Anglican Communion as Sunday school teacher; Sunday school superintendent; President, Anglican Youth Movement; chalice bearer, Eucharistic Minister, Lay reader, Chorister, Member, Cathedral Prayer Group, Secretary, Anglican Church Women Association (ACWA).
She retired from the civil service in 2011 and went into full time service to God and the Anglican church.
At her funeral mass at St George's Cathedral, Bishop of the Windward Islands Rt Rev'd C. Leopold Friday, in his sermon reminded that when we speak about priesthood, we go beyond something that is merely a function.
"Ordination is a lifelong vocation and commitment," he stated, during the sermon based on John Chapter 6 verses 37-40.
In a biographic sketch she wrote in 2020, Reverend Samuel said her main goal in life was to "fulfill this ministry which I was given, with the help of God."
The daughter of Florence Samuel and Daniel Williams, Alison attended the Kingstown Anglican Primary School and the St Vincent Girls' High School.
The bereaved include her brother Brian Samuel, other relatives and close friends.
Her body was interred at the St George's Cathedral church yard cemetery.