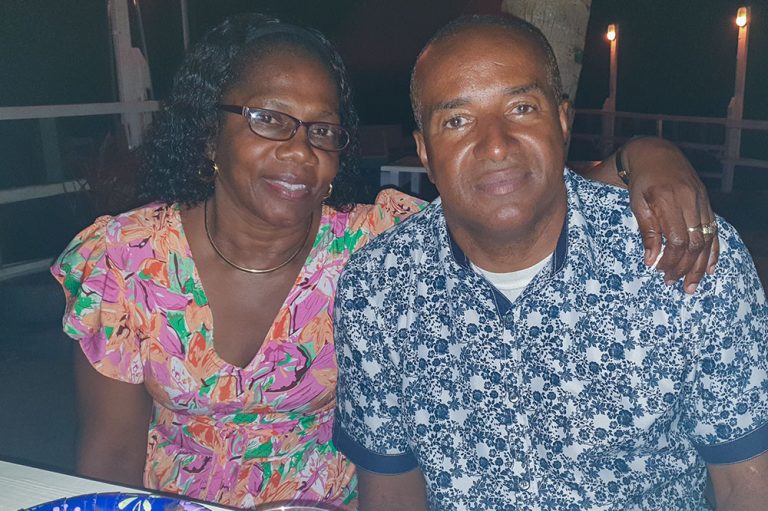 Restaurateur gives back to taxi drivers
About 40 local taxi operators were over the weekend wined and dined by restaurateur Dean Clouden, owner and operator of 4 Shells Fish Joint, an establishment located in Calliaqua.
Clouden, who has been operating 4 Shells for about eight years, said as part of giving back to taxi operators who take tourists and other persons to his restaurant, he decided to host an event at another of his establishments, Pier 1.
He said he invited the country's taxi operators to Pier 1 where he treated them.
"My restaurant has been successful and today's occasion is for the taxi drivers who have been very supportive of 4 Shells and have been recommending it to a lot of people from the ships, yachts and people visiting.
"I just thought it was fair to give back and do this event for them as a form of appreciation," Clouden told SEARCHLIGHT on Sunday.
He said the event was attended by several taxi drivers and their spouses, and he provided food.
"It was great and they were actually amazed because they said that all the years in taxi nobody really ever done this for them," Clouden explained.
He said with the help of the taxi operators 4 Shells has been able to build a name for itself as foreigners sometimes walk in and tell him that his business is popular in places like the Unites States of America (USA) and Canada.
"It is [a] great feeling that we continue to serve the public whether local or international and we are proud of what we do," Clouden said.
Taxi operator Crispin Charles, who attended the event with his wife, said he usually takes people to 4 Shells.
"One of the good things with him is if I have people going to Bequia and I leave the airport and they ask where they can get something to eat I just pick up the phone and I dial and they order on the phone and by the time we get to Calliaqua the order is ready," Charles said.
He said also that the food is of a very high standard, especially the snapper.
"A lot of guests like the snapper and lobster and that is one of the reasons I support him, because of the quality of the food," Charles stressed.
He said Sunday's event was welcomed.
"I think it is something good because when you have people who support you, you must always find a way that you can give back to your supporters as even with my business I do that," Charles commented.
He said, taking a page out of Clouden's book, he has pledged his support to a student and will assist that student with books and uniform in an effort to give her a good start in obtaining her education during the next school term.
Another taxi driver Joanne Cyrus, said she started driving taxis last December and she feels "very good" for the recognition given to her and her colleagues.
"… Because being a taxi driver, at least you are recognized so I feel appreciated as I also bring customers to 4 Shells," said Cyrus.
Elvis Doyle who has been a taxi driver for 10 years said Clouden's gesture of appreciation was "good."
He said when he has passengers coming from the Argyle International Airport (AIA), once they talk about food, he takes them to 4 Shells.
"The feedback is very good. I had some people off the New York flight recently and the steam snapper was so good that they came back for dinner," Doyle revealed.
He said this was the first time a business had shown appreciation to drivers.
"The rest businesses have no time with taxi men, so big up Clouden. I look out for people who support the taxis. If you ain't look for me I can't look for you so anybody come off the flight and talk about food, 4 Shells is the first option so sometimes you have to show a little appreciation so it is wonderful seeing people here tonight interacting," Doyle further said.
Hospitality Officer at the St Vincent and the Grenadines Tourism Authority (SVGTA) Marlon Joseph, was also present and thanked Clouden for the gesture.
"I think that it is a very good gesture on the part of Dean in bringing together the taxi drivers as they play a significant role in the tourism industry.
"They are one of the first points of contact with guests and it is good for them to feel appreciated and I think to what Dean realizes is how the tourism dollar circulates and how it trickles down," Joseph said.
He added that taxi operators assist with bringing business to 4 Shells and this is one way the tourism industry survives as the dollar trickles down to the different service providers.
"I think other businesses should do this too, and when he told me about it I said it is very good because we always have this mantra at the Ministry of Tourism and the Tourism Authority that tourism is everyone's business.
"We have to live it, we have to love it, we have to embrace it, and to see the various stakeholders coming together and reciprocating appreciation is something I would love to see extended by other service providers," Joseph said.
He also noted that the country had a "wonderful cruise season" with over 300 cruise ship calls.
"So it was a good season and we must give the taxi drivers credit for conducting themselves well and for being good ambassadors for the tourism industry," the Hospitality Officer noted.
Prime Minister Dr. Ralph Gonsalves was also a guest at the event.