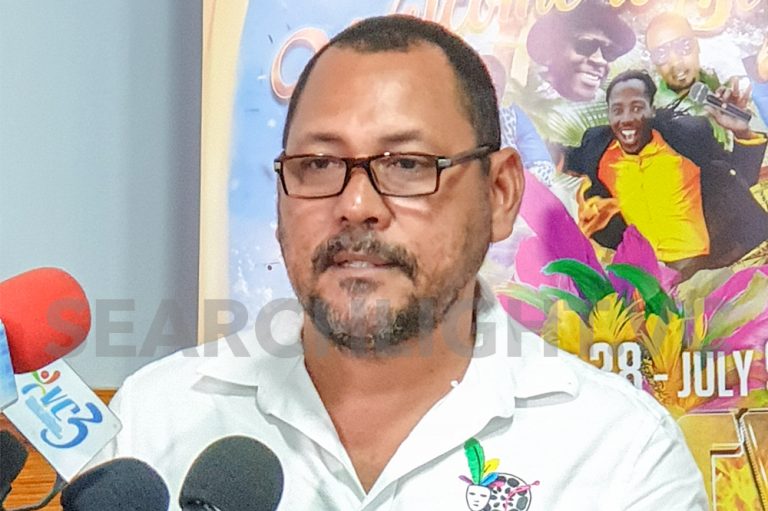 People are anti-CDC because of politics says Chairman Ricardo Adams
Chairman of the Carnival Development Corporation (CDC), Ricardo Adams has concluded that members of the public intentionally discredit the CDC and Vincymas because of its connection to the Unity Labour Party(ULP) administration.
He said though, that persons who take this approach would only hurt themselves.
Adams, who was speaking on SVGTV's Viewpoint programme on Tuesday, May 9, commented on the issue of the intentions of some Vincentians to discredit and diminish Vincymas as a tourism product.
His comments came two days after the launch of Vincymas 2023 on Saturday, May 6, at the Victoria Park, preceded by whistle stops from the leeward and windward ends of the mainland.
Adams expressed disappointment with the turn-out of patrons to the launch.
He said he recognized that the CDC is not attracting the numbers it previously did but noted that while some still get excited about the CDC, there are a lot of people who usually stand on either side of the fence on whether they support the Corporation or not, which makes it very polarizing.
"…The CDC is an arm of the Government of St Vincent and the Grenadines. You can see it in a lot of the cases, where the people who are very critical of the CDC are also very critical of a lot of other things to do with the Government of St. Vincent and Grenadines and the people who are very supportive of the CDC are also very supportive [of the Government]."
Adams said he recognized that in any country where there's a very strong political divide, an entity will be judged when they represent one side or the other, or when it's possible for them to become a proxy for a government.
"Currently, there is a very strong anti- CDC sentiment. I always say to people, if I went on Facebook right now, and I just type the letters CDC, I can almost guarantee you the 10 people who would come on and what their responses are going to be … so there's a very strong anti-CDC sentiment at this point in time … there's a very strong push across certain elements of the media to discredit the CDC and discredit Vincymas.
Adams said it is beyond him why some people would see it fruitful to discredit either, pointing out that at the end of it all, if Vincymas as a product is damaged, "who do we damage? We damage ourselves".
"…If Vincymas as a product is damaged and we don't have people coming to Vincymas because we tell the world that 'oh there's issues with antivirus etc,' at the end of it, our Soca artistes are not going to get the performances that they normally would."
He added that a lot of the costumes being sold by the Mas bands are to people who come from outside of this country, adding that Vincymas is not done for the CDC, but for St Vincent and the Grenadines (SVG).
"And so there are a lot of people who rejoice … when the CDC doesn't have a successful show…".
Adams said that he was advised to make the show, which was part of the launch of the festival, free and to not charge patrons the $20 entrance fee.
"But then I'm pretty sure that some of our artistes will come back around and say they need to be paid because they're not singing free. The security force that provides the security, they're not doing it for free. The sound system is not doing it free. The lights are not free … so we would love to do it free if we can get the sponsorship to do it that way but I don't think that $20 is an unreasonable amount to charge for a show with a live band and live performances."
On a more positive note Adams said that most of the Mas bands have already been launched, and some sections in a few of them have been sold out, which shows that there are people who still have an appetite for what is happening.
"So we're seeing the components getting themselves prepared to participate in Vincymas. We've been able to establish a link with Caribbean airlines this year, so Caribbean Airlines is coming online as one of our partners as the official airline of Vincymas which will give us a lot better access now because we anticipate that they will increase the number of flights coming to St. Vincent. And, of course, other airlines have stepped up their flight schedules so we anticipate that the numbers coming to Vincymas are going to be much higher than they were, not only last year but prior to the COVID hitting us."