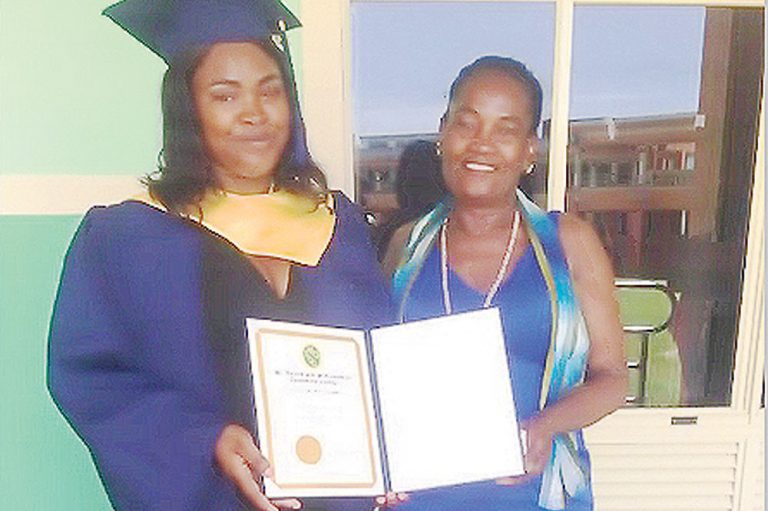 Mother's Day plans squashed for family of accident victim
While hundreds of children in St Vincent and the Grenadines (SVG) are looking forward to spending Sunday, May, 14, showering their mothers with love and appreciation, this day will be one of pain for five children in Spring Village, Georgetown.
The children of Marva Rhonda Browne also had plans to shower her with love this Sunday.
Their plans were however squashed when their mother died on Saturday, April 22, in a vehicle incident.
The 55 year old mother of five was walking along Commercial Road in Georgetown on the night of Friday, April 21, when she was struck by a vehicle.
She died about two hours later at the Georgetown Smart Hospital, where she was taken for treatment.
SEARCHLIGHT has learnt that a post mortem which was performed on the body, shows that Browne died as a result of multiple trauma related to the accident.
Speaking to SEARCHLIGHT on Wednesday, May 10, Browne's eldest daughter Wallicia said she had already made plans to treat her mom to a spa day on Mother's Day.
That plan, and all the other plans to be with their mother on Sunday were suddenly squashed.
Wallicia acknowledged that the family is still mourning, and there is now an "emptiness" at their home.
She said while she and her other siblings try to hide their deep feelings of loss, the grief is still often very evident.
"I am very observant, I see their pain," Wallicia related.
As for this Sunday, May 14, the grieving daughter said it will be a "hard day" for her and her siblings to get through.
"We are definitely not looking forward to Mother's Day," she said with an air of sadness.
To add to their grief, the siblings, who range in age from 26 to 13, have just finalized funeral arrangements for their mother.
Browne will be buried on Saturday, May 20, at the Georgetown cemetery.
Her funeral service will be held from 2:00 p.m at the Bethel Gospel Assembly at Mt Bentick in Georgetown.
Another sad coincidence is that Rhonda Browne would have celebrated her 56th birthday on May 23.
This is also another day that her children were looking forward to.
Now, all they have are the memories of their beloved mother.
Following the fatal accident, the police arrested and have charged a 41 year old contractor.
New Prospect resident, Luther Jackson was taken to court on April 27, charged that being the driver of motor vehicle PW 510, he caused the death of Marva Rhonda Browne of Georgetown by driving the said motor vehicle dangerously.