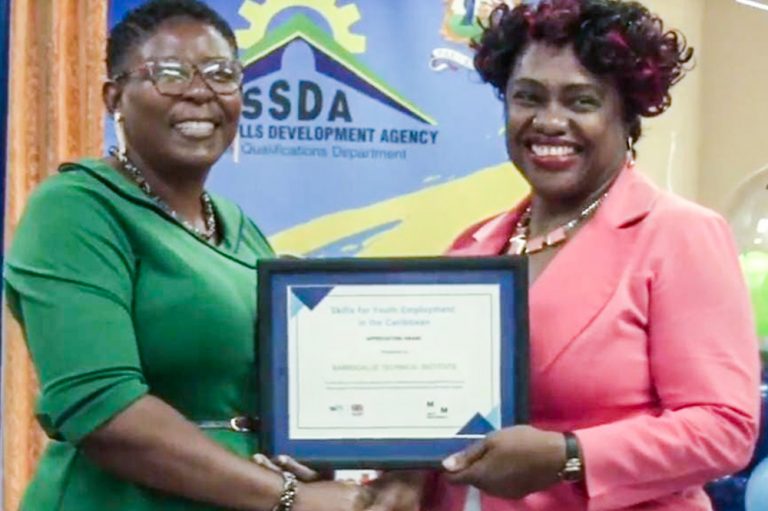 SKYE programme officials say thanks to training partners
The Skills for Youth Employment in the Caribbean (SKYE) Programme has acknowledged its achievements with its training partners by presenting them with awards of appreciation as the programme enters its final stages of operation.
On Friday, April 21, a presentation and appreciation ceremony was held at the Methodist Church Hall, Kingstown to celebrate the programme's achievements with its training partners and to express appreciation and gratitude to them for making it an overwhelming success.
The ceremony was organized in conjunction with the National Qualifications Department, Sector Skills Development Agency (SSDA) which is one of the principal partners in St Vincent and the Grenadines.
The programme which will conclude on Saturday, July 1 saw the presentation of certificates to instructors; they were awarded the level three BTEC (Business Technology and Education Council) Edexcel Unit qualification: Understanding Inclusive Teaching and Learning approaches in Education.
The SVG SKYE team leader Rosie Lugg said she was delighted to express appreciation to all the partners that have delivered the SKYE programme in SVG over the past five years as these partnerships have achieved impressive results for young people in some of the most disadvantaged communities in the country.
"As the SKYE team, whilst we've been responsible for managing the SKYE training funds which was funded by UK Aid, and for managing the grants to our programme partners, it is the training providers, the instructors, the community based organizations, the employers, and the qualifications agencies that have formed the partnerships that delivered the programme activities and achieve these results," Lugg pointed out.
She said the results achieved by the SKYE programme partners are indeed impressive and that the 5600 young people who have to date completed training have been awarded a certificate which is recognized nationally, regionally and internationally. Several have received CVQ certification.
"We are really proud that almost 600 young people that started a Caribbean Vocational Qualification (CVQ) Course funded by SKYE, 77 per cent of them successfully achieved the full qualification. Tracer studies that were carried out by our training partners suggests that 56 per cent of graduates of SKYE funded programmes are now employed, with the rate of employment after training being almost double the rate before training."
Lugg further said that many instructors within SKYE's training partners have engaged in professional development activities of many different kinds through their organization's participation in the programme. These instructors who were now being celebrated in particular for their achievements received a B-Tech Pearson UK certificate in Inclusive Teaching and Learning.
"So I'd like to make two reflections on SKYE today. The first is that the projects that were funded by SKYE brought organizations together from different parts of the skills ecosystem into partnership, and each partner brought expertise and at least one part of a young person's journey from unemployment into training, into certification, into work experience, into employment, and from both the supply and the demand side of the skills system. "
Lugg said that SKYE projects brought together community organizations working with young people with disabilities into partnership with training providers wanting to expand their provision. She also said that in some cases, in SKYE, the projects brought together training providers that had never worked with a qualification authority into a new partnership with their national NTA.
"Training providers formed partnerships with local employers to place trainees on internships and to gain work experience. NTA is partnered with training providers to strengthen compliance with quality assurance and to train more instructors as assessors and verifiers," Lugg added.
" I really think that one of the lessons that we take away from SKYE is the vital importance of partnerships between organizations and building more inclusive pathways into training and into work for young people."
She reflected on the role of SKYE as a training fund, adding that funding is one of the main challenges for skills development globally.
"With additional funds, our partners were able to reach over 5000 more young people and to reach more disadvantaged young people who need access to additional services, such as transportation, and stipends if they're going to be able to take up training opportunities available in the system."
The local partners include the National Qualifications Department SSDA; the Kingstown Technical Institute; Camden Park Technical Institute; Barrouallie Technical Institute; Georgetown Technical Institute; Professional Development Institute; a subsection of the Professional Secretarial and Consultancy Services Inc; National Center for Technological Innovation; Vinsave; the Department of Adult and Continuing Education; and the St. Vincent and the Grenadines Community College.
Similar ceremonies will be conducted in the other SKYE participating countries of St Lucia, Dominica, and Grenada in conjunction with their respective partners.