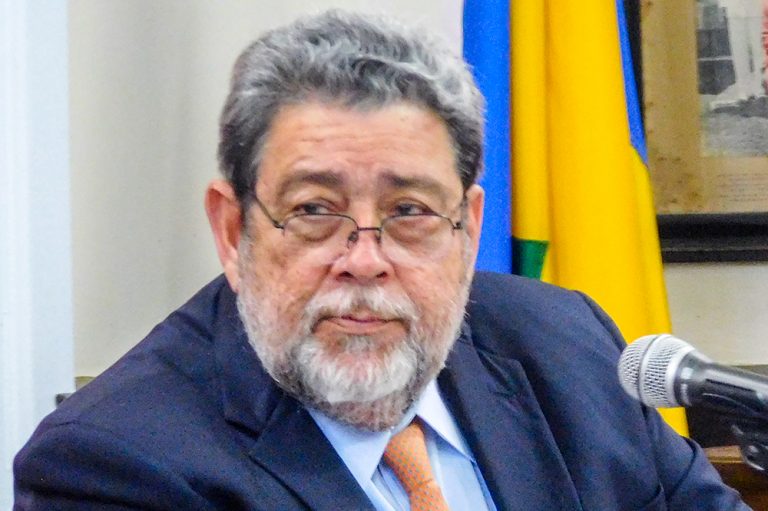 PM claims that murderers are 'absolute cowards'
Persons who commit serious crimes and acts of violence, have been deemed as "absolute cowards" by this country's Minister of National Security, Prime Minister Dr Ralph Gonsalves.
"I am satisfied … that most of the people who do killings, they are cowards," Gonsalves told participants at a crime symposium this week in Trinidad which included regional Heads of Government.
Reminding the gathering that he had spent several years as a defense attorney, Gonsalves indicated that regardless of criminals often trying to portray a macho image, "they are absolute cowards."
Gonsalves who was delivering an address on Monday, April 17, at the CARICOM symposium on crime as a public health issue was also pointing to the desirability of reintroducing the death penalty as a means of addressing certain categories of killings.
He added that "most of those young males, who commit homicides, come from broken homes, or dysfunctional homes."
"Most of these young males, overwhelmingly, who commit crimes, drop out from school, or fail to take advantage of opportunities available to them."
Additionally, the prime minister suggested that there is a link between crimes and gang culture across the Caribbean.
"Most of these persons, these young males who commit violent crimes, find themselves in a culture of crime in particular communities and form associated criminal groups, or gangs," he said.
To the young males who are prone to committing crime, Prime Minister Gonsalves stressed that this tendency is through their own fault.
"It is nobody's responsibility, primarily, other than your own."
He pointed out that these days when a person commits murder, people are quick to blame the society or the community from which the alleged killer came, but he rejected that claim and insisted that when it comes to such persons "they have chosen to be murderers."
"They have chosen to kill, and they do so by and large because they want to make some easy money.
"They in drugs, running crime, some of them, in order for them to maintain ranks in the country, they get a fascination with guns," he pointed out.
Additionally, Gonsalves said that these young males find themselves associated "with young women who are 'high maintenance', and they have to rob and steal and kill and deal with drugs, in order to maintain them."
He told participants at the regional symposium that he was speaking the "absolute truth" which everybody already knows.
Apart from being cowards, the prime minister also pointed to an element of greed within those of a criminal mind.
"They are greedy and they have a permanent condition of dissatisfaction which is insatiable."
According to Gonsalves, such persons are "absorbed with me, me and me."
He charged that the material base for this mentality is "dog eat dog capitalism."
"They see lots of people get away with all sorts of things and they decide that they going to try and get away with it too."
Prime Minister Gonsalves also claimed that a significant number of young males who commit crimes "have some mental problems," and may also have come from single parent households, where the mother has to hustle daily to make ends meet.
Apart from the family and the school, Gonsalves said that the church also has a part to play in shaping lives and may be more fruitful "if they stop trying to frighten us to go to Heaven because of Hell."
"Every time I go to church, they want me to go to Heaven, by frightening me not to go to Hell," he noted.
"They have to begin to preach better in order to get my attention.
"If they can't get my attention in that way, how are they going to get young people's attention?"
While there are some young males who cause a lot of trouble, Gonsalves pointed out that " the bulk of young males are making us very proud."
He also took a swipe at the media saying they add to the stigma attached to this group.
"As soon as there is one murder, it is front page, and they talk about it, but the thousands of young persons who do well, you don't get that coverage.
"If you get the coverage, you get it on page 40, continued on page 48," the prime minister claimed.
In his contribution to the regional symposium on Tuesday, Prime Minister Gonsalves maintained his view that very often, it is a choice that people make that " they going to pull
the trigger and kill somebody."
St Vincent and the Grenadines has recorded 12 homicides for the year 2023.
This figure for the same period has already crossed 100 in places like Trinidad and Tobago and Jamaica.The regional symposium on crime was held at the Hyatt Regency in Trinidad.