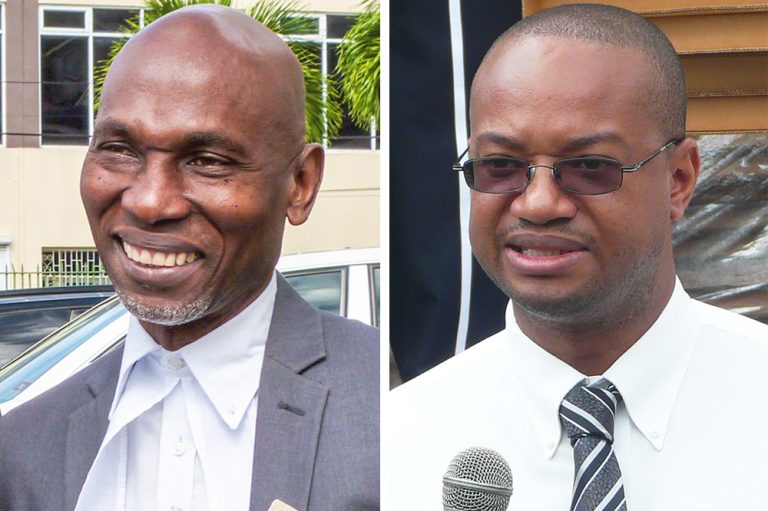 Jomo was the wrong man for South Leeward – PM
The Unity Labour Party's selection of Jomo Thomas as its candidate for South Leeward in the 2015 General Elections was a mistake, the political leader has stated.
Dr Ralph Gonsalves, addressing the Unity Labour Party's (ULP) South Leeward Constituency Conference on Sunday, April 3, told those in attendance that the party made a mistake in not selecting Grenville Williams in 2015, but a candidate to contest the next General Elections will soon be chosen.
"We will choose in time our flag bearer, our standard bearer. Everybody knows that 'Mini' (Dr Mineva Glasgow) ran the last time. We know also now that Grenville is home…. Grenville is interested. He was interested in 2015. We have to admit we made a mistake," Gonsalves said to the loud cheers of party members and supporters present at the Vermont Community Centre.
In early 2014, lawyer Jomo Thomas, and then head of the Financial Intelligence Unit Grenville Williams, both offered themselves as candidates to contest the South Leeward Constituency on a ULP ticket. With just months to go before the elections in December 2015, Williams bowed out of the race and endorsed Thomas as the candidate, a move which upset many die-hard party supporters, who felt Williams was the better candidate.
"The stone that the builder refused, may well become the head corner stone. That is why I say we do this thing in love, and in solidarity. We don't do it in selfishness. Not with bile, not in confusion," Gonsalves told the party conference, which was being held under the theme "South Leeward, Renewing our Commitment, Advancing with fortitude".
Williams, who has signalled his interest in contesting the South Leeward seat since late last year, was present at the meeting which was held at the Vermont Community Centre. In August 2022 he told SEARCHLIGHT that his interest is now stronger in serving the people he was born and raised among.
The ULP lost the South Leeward seat with Thomas on the ticket in 2015, with a margin of 118 votes to Nigel Stephenson of the New Democratic Party. In the 2020 General Elections, Stephenson increased his margin, winning the seat by 505 votes ahead of the ULP's Mineva Glasgow.
Also present at the April 2 meeting at Vermont were former West Kingstown representative Rene Baptiste, former Central Leeward representative Maxwell Charles, along with government ministers Dr Orando Brewster, Saboto Caesar, and Camillo Gonsalves.
Williams now serves as Attorney General within the ULP Cabinet having been appointed in October, 2022. Prior to returning home, he served as Director of the Asset Recovery Unit of the Regional Security System (RSS), based in Barbados.
Immediately after his unsuccessful outing at the 2015 polls, Thomas was appointed Speaker of the House of Assembly. He resigned from this position in February 2020.