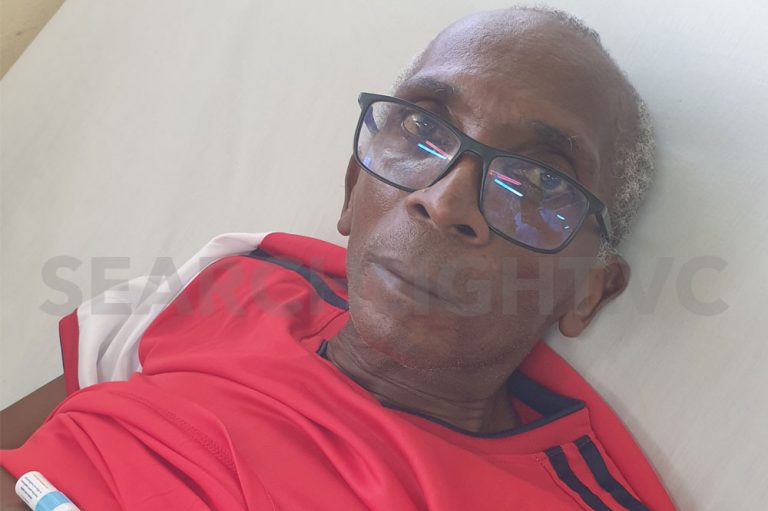 Elvis Daniel commends health care staff at MCMH
Former New Democratic Party (NDP) candidate for North Windward, Elvis Daniel, has lauded the care provided by nurses, doctors and male attendants at the Milton Cato Memorial Hospital (MCMH) after a stay at that health institution.
Daniel who spent eight days on the Male Surgical ward at the MCMH said despite the limitations on the staff the men and women who work at the facility go above and beyond to help patients.
"I found it was a fairly good experience as in my estimation, the nurses work very hard," Daniel told SEARCHLIGHT on Thursday, one day after he was released from the MCMH.
He said from his observations, which were strengthened by questions he asked, the nursing shifts are often short-staffed and there are other limitations but they still manage to do a great job in caring for patients.
"They were stating they are often with about 25 patients at Male Surgical so it seems as it was limited staff, but I find their response was quick in that when you call for any assistance, they may not come immediately, but they would come in a minute or two.
"So in terms of their professionalism, I thought they did a wonderful job in terms of patient care," Daniel commented, adding that practitioners like Dr. Dougan and Dr. Joseph were also very professional in their approach.
"I am satisfied with the care. There was just one minor incident that I would just let pass because things can't be 100%," he said, while adding that one of the issues is the shortage of certain types of medication.
"At times I was hearing that certain things [are] not available…I think they need a boost of staff because there were not always many persons around for the number of patients, and I heard also that there is not enough male attendants per patients…one of the nurses was saying there [were] about four attendants for over 300 patients so there definitely needs to be more staff.
Daniel felt however, that "based on what they do, the majority are very caring and concerned and even if they are not assigned to caring for you, they would pass and ask you how you are feeling so I can see the care and compassion".
He added, "I also found that the doctors do their very best and they question you and give you their perspectives on what to do and what not to do and they are very frank about your situation.
"Dr. Dougan and Dr. Joseph, they showed concern and was clear in what they were saying so I appreciate that very much. Even the male attendants were very professional. Even the hospital administrator, Grace Walters was involved and was very professional," Daniel told SEARCHLIGHT.
Daniel contested the 2010 General Elections on an NDP ticket in North Windward against the Unity Labour Party's (ULPs) Montgomery Daniel and lost.
He was one of three teachers who were not re-employed by the Government after they resigned to contest the elections that year. However in 2013, he was hired by the St. Martin's Secondary School (SMSS) as a maths teacher and his salary was paid by the government after a request to do so was submitted by then Roman Catholic Bishop of the Diocese of Bridgetown and Kingstown, Jason Gordon.
In 2019, the Court of Appeal ruled that the Government had been unfair to Daniel and his colleagues in not rehiring them. The court also ruled that the three are entitled to pension benefits, and that damages were to be awarded for breach of their property rights.