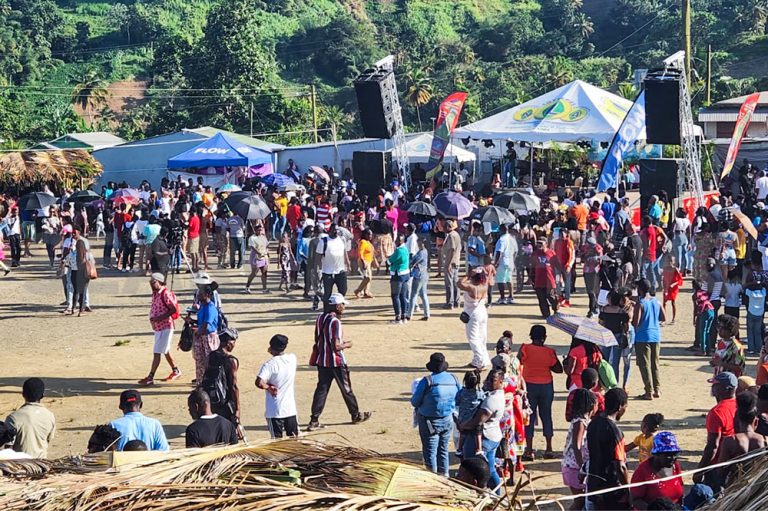 Spirit of Chatoyer celebrated in Greiggs and Fancy (+video)
Vincentians, tourists and members of the Garifuna Diaspora converged on two communities on Heroes Day to celebrate Vincentian history and heritage.
The crowds were thick in Fancy and Greiggs on Tuesday, March 14 for the heritage festival- the first in two years which has not been impeded by the aftermath of the eruption of La Soufriere or the COVID-19 pandemic.
In Grieggs, a variety of talent was showcased from the young and senior members of the community. Presenters included students from the Calder Government School, Greiggs Primary School, as well as fashion designers and grassroots musicians.
President of the Grieggs Garifuna Council, John Nero said the Council has recognized the need to celebrate the island's lone national hero for more than just one day in Heritage Month, and so for 2023, they spread the festivities over one week which included a karaoke, a film extravaganza, a games night and a tribute night in recognition of Phil 'Big Diesel' James.
"Carnival has ten days of Mas and music, Easter benefits from 40 days of Lent and you mean to tell me it is only one day they going give we [to] celebrate indigenous heritage? Greiggs say no, and Greiggs has been celebrating five days of activity ending today on this most auspicious day."
Nero also said the Council is putting more focus on building a festival that can be marketed outside of St. Vincent and the Grenadines.
"Every season of the year has its own expression … what Greiggs is aiming to do is build a product that is worthy of tourism to go forward for the next generation. Our mantra is concept over crowd and it means that you continue to add value to the idea, take it to higher levels and it will attract a crowd."
Further north in the community of Fancy, music and drama presentations dominated the activities.
In his remarks, Parliamentary Representative for the area, Minister of Transport and Works, Montgomery Daniel, said there is a need to establish genealogy links in order to confirm ancestry to the descendants of Garifuna people in Central America.
During the ceremony, a special honour was awarded to one of the oldest members of the Fancy community, 92-year-old, Annie Baptiste. The mother of 15, who is affectionately known as 'GranMa' was presented with a plaque from the Fancy Union Cooperative and North Windward Tourism Association for her work in community building.