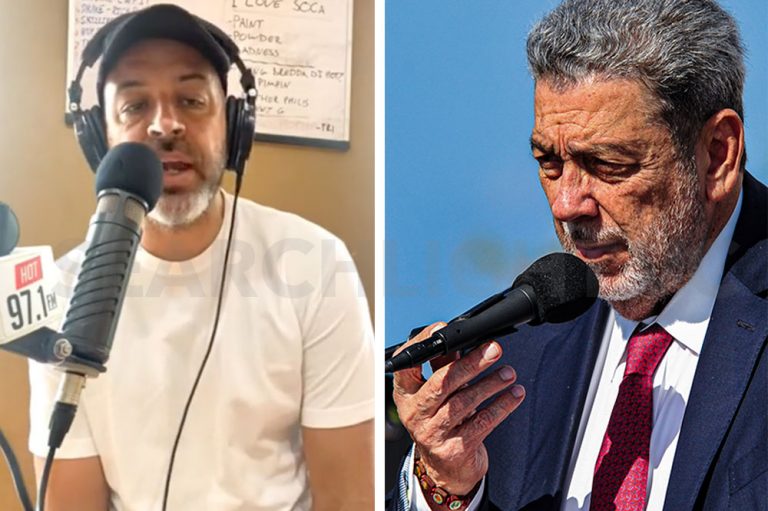 No H2O Soca this year for Vincy Mas?
The possibility exists that H20 Soca, arguably the biggest stage show put on annually during the carnival period will not take place this year.
The show is the brainchild of managing director of Hot 97.1 FM, Luke Boyea.
Boyea is finding it difficult to secure a venue for the event as the Arnos Vale Sports Complex, the home of H20 Soca, may not be available for use this year.
Speaking on WE FM's Issue at Hand programme on Sunday, March 12, Prime Minister Dr. Ralph Gonsalves said he is requesting that for use of facilities like the Arnos Vale Sports Complex, there must be clear principles and appropriate conditions upon which they would be leased for purposes like fetes.
Gonsalves said he has requested to see the terms of use for the facility but has not yet seen them but what he has got, is a general letter and not the desired guidelines and conditions.
He also noted that public property must be protected, and Hot 97.1 FM's wet fete is different than Steel Expressions which is organized by Rodney Small or any promoter doing similar events like Small at the Arnos Vale facility.
"…those things are understandable, but if you're going to have mass people jumping up and mashing up the place where it is not constructed for those particular kinds of activities, it has to be clear principles on which you're going to do this," Gonsalves said.
He noted that some persons are saying that Carnival is not the same without "wet fete" but if Hot 97. 1 FM is unable to find another venue, people will go to other wet fetes like "the one up in Mesopotamia".
The Mesopotamia event is in reference to "Cheaper Water", which is held on the same night as H20 Soca but at a smaller venue- the La Croix Boxing Plant.
"It's not the end of the world if Luke Boyea can't put on a wet fete", Gonsalves stressed while adding that he does not have anything against Boyea or Chris "2 Kool" Jones, host of Hot 97.1 FM's AM Mayhem morning show.
In response, Boyea told SEARCHLIGHT on Monday that the Prime Minister is ignoring the fact that H20 Soca is the biggest event for the year, employing upwards of 40 artistes and several other entertainment industry professionals including musicians, sound engineers and sound system operators. This event Boyea said, pushes expenses into the hundreds of thousands of dollars.
"Essentially what he is arguing is not really making sense because he is down playing the show and saying it is just a money thing and ignoring the facts…," Boyea said.
"Whether the government likes it or not, it has become a cultural phenomenon and has spawned a whole series of copy cats of wet fete type events.
"So just to dismiss it as just another wet fete, it is also the biggest stage show for the season so he is being culturally off and he is not being accurate in his cultural assessment," Boyea argued.
"He may personally think it is not anything and just another event but it hasn't got to the stage of being just another event, it is a leading event and also, if we are taking the words of CDC as having any meaning, he is essentially blocking one of the few stage shows that includes live band and everything."
The veteran promoter said there are not many stage shows left, except for "Soca Monarch by the CDC, "Black Rave" by Gamal "Skinny Fabulous" Doyle, and to some extent "Color Fete", and it is not safe to allow one of the most popular events to die.
"The CDC had said, and I agreed, that they can't let Carnival become an all inclusive event but if you keep making stage shows more and more costly and hard to have where will the next generation of artistes come from?
"Trinidad Carnival has maybe 50 stage shows and we are already down to three or four or five maybe. Is this the direction we want for Carnival? Boyea further questioned.
"And he (Dr Gonsalves) is also ignoring that H20 is at the beginning of Carnival and it has the status that it attracted persons to come in early in Carnival … H20 is a big enough draw to make people come in early and that will benefit the economy so I think the PM should say he just don't want it," Boyea stressed.
He said that H20's status is not by accident as it appeals to something in people and people have gravitated to it.
"… and that can't be by accident and that can't be dismissed so easy and you just can't cancel it because you don't like something I said on the radio."
He noted also that the damage spoken about is not in reality something that should stop the show as there is a caution fee/security deposit of about EC$5000 or EC$6000 and last year HOT 97.1 FM got back a huge part of the caution fee/security deposit which says that any damage done to the venue was minimal.
"I have rented down there tens of times and they have clear guidelines and conditions and they give you a contract and that has a caution fee.
"If anything was damaged, they deduct and I can't remember what it was last year, I got back $4300 so the damage was $700…".
"The way the PM is talking you would have thought they took the caution fee and demanded more, and the fact that we got back most of it, how extensive could the damage have been?
Boyea noted that "there was a picture of a wooden fence down and … by the Wednesday, everything was fixed."
"They have to decide what it is. It doesn't seem as the Sports Council has a problem as they use the funds to pay staff and upkeep etc.
"It can't be West Indies Cricket Under-19 because they don't come in until the afternoon of the day after the event, so the reality is by the Monday morning we are long gone and we are not even using the cricket ground," Boyea further pointed out.
He said that it cannot be the CDC blocking the event, because the PM has said that the CDC has no authority to block events unless the event is directly mimicking something the CDC is doing.
"So what is the issue? It seems as this is a personal issue that the PM has. I mean, what else could it be? It can't be damage to the facility because if it was extensive as implied, how come I got nearly all the caution fee back?
"It can't be CDC because they have no authority as indicated by the PM at prize giving. It isn't the Sports Council because they have been removed of the power to grant permission for the venue."
He explained that in an effort to get another venue he had written to National Properties Limited but got no response.
Boyea also pointed out that the decommissioned E.T Joshua tarmac is not a good venue as securing that facility would be problematic, while other venues are too grassy for wet fete events because of water.
He claimed as well that Gonsalves said that HOT 97.1 FM criticizes the manager of the facility, Miles Bascombe, the CDC and the Minister of Sports but that they have never spoken about Bascombe and he (Boyea), never knew who the Minister of Sports was until Monday morning.
"… the Sports Council is willing to let us use the venue, but they have instructions from Cabinet or the PM that everything has to pass through them before they give permission."