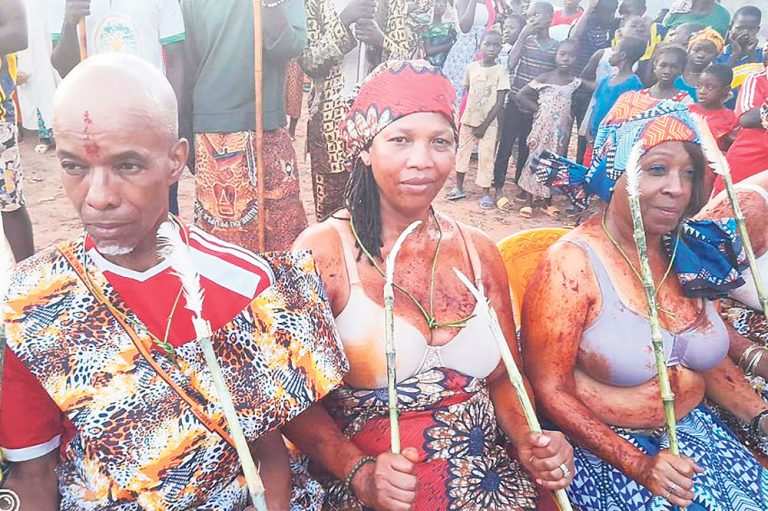 Garifuna descendant discovers African royalty in her bloodline
by Christina Smith
There is a common thread that runs through African-descended people living in the Caribbean, Latin America and the wider Diaspora. That is, a longing to know the origin of self and their ancestors, before colonization, slavery and the trauma that followed.
It was this yearning that led Garifuna descendant and producer of the Garifuna International Indigenous Film Festival, Freda Sideroff, on a journey which would eventually conclude with her discovering that she is descended from royal African blood.
Sideroff shared her story with SEARCHLIGHT while in St. Vincent and the Grenadines for Heritage Month celebrations where she and the Garifuna delegation spent over a week visiting schools and communities to educate Vincentians on the Garifuna language and culture.
Sideroff explains that as a child her grandfather confided in her that "you are a princess". Not in the common way that female children are referred to by their father but he stressed the authenticity of this claim in a way that Sideroff said stuck with her over the years.
The Belizean, who now resides in the USA, this year marked her third pilgrimage to St Vincent and the Grenadines (SVG) and was able to trace her lineage from Central America to families in the North Windward, particularly in Owia and Sandy Bay, noting that surnames such as Laborde, Baptiste, Hoyte are "my people".
But Sideroff did not let her ancestry tracing end in Yurumein, the birthplace of the Garifuna people. As curiosity grew, she decided to take a DNA test through African Ancestry and it highlighted an amazing discovery.
"I tested both my maternal and paternal ancestry and … my maternal bloodline, it shows that I am Tikar … from a royal bloodline in Africa."
The Tikar people originate in Cameroon, Central Africa and historical evidence has shown that their movement across Africa occurred through migration, while their arrival in the Caribbean and the Americas came as a result of kidnapping by slave raids where they became part of the Trans-Atlantic Slave Trade.
After much research, Sideroff said she would later find out that there was a global movement to reconnect Tikar people to their ancestral homeland.
"I connected with Prince Delaure Delwanda who is working to reconnect Tikar people from all over the world. Through DNA Ancestry testing people, like myself, are discovering where they came from and who they really are."
Sideroff was overflowing with excitement as she described receiving an invitation to Cameroon from King Gah II, King of the Bankim Kingdom to attend a traditional naming ceremony. She made the ancestral pilgrimage to Cameroon in 2021 where she was bestowed with her royal title.
"I was named Nguebe Houmchim which is Tikar for Queen Mother," Sideroff told SEARCHLIGHT.
She said she considers it an honour to not only be aware of her ancestry but also to be acknowledged and named as Queen Mother. She also said the journey of her ancestors out of Africa and into St. Vincent and the Grenadines, followed by the exile to Baliceaux and eventual settlement in Central America is testament to the resilience of African people.
"It offers an amazing opportunity to deepen our understanding and awareness of who we are as a people. When we are asked where are you from, I say Sandy Bay, Fancy, Greiggs."
Sideroff told SEARCHLIGHT she and other Garifuna people are on a mission to address the cultural disconnect between Vincentians and Garifuna in Central America.
" We have inherited something very important, we are intangible … Chatoyer was a sovereign King, so what does that make us? It is important that we remember who we are and to be able to continue to embody that we are royals."