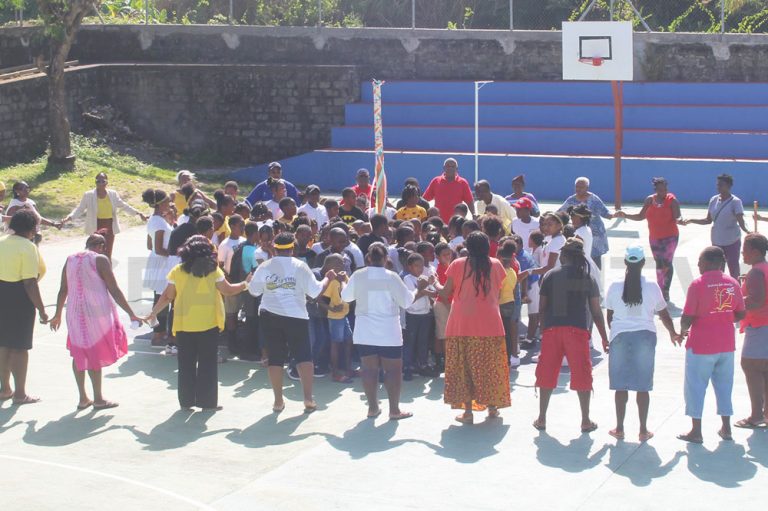 Garifuna delegation engages students at Park Hill Government School
Emotions ran high at the Park Hill Government School on Monday, March 13, when a delegation of visiting Garifuna converged on the school grounds.
Elated students left their designated seats and ran towards the parked bus which transported the Garifuna members to their school.
As the delegation alighted from the bus, the students advanced to meet them, welcoming them with a warm and emotional embrace which was reciprocated by the delegation.
The Garifuna contingent arrived in the state on Friday, March 10 and participated in numerous events leading up to the celebration of National Heroes Day on March 14 in which they were also engaged.
Principal of the Park Hill Government School, Elizabeth Johnson welcomed the delegation back to the land of their ancestors.
"We are so deeply moved, and we are happy to have you at the Park Hill Government School," Johnson said noting how gratifying it was to have the visiting Garifuna in their presence.
Students performed cultural items including a maypole dance for the visitors.
When it was their turn to perform leader of the delegation, Trevor Palacio serenaded the students with the singing of Whitney
Huston's Greatest Love of All.
He was assisted by chair of the event, teacher, Mikey Boyea.
Apart from parents, the event was also witnessed by many members of the Park Hill community.
At one point, the students were called onto the playing field and the Garifuna members encircled them, along with parents and community members.
While holding each other's hands, they prayed and sang songs of worship for the children.
They also engaged the students by teaching them some words and phrases in the Garinagu language.
Senior education officer for primary schools, Hannah Browne, was also on hand to witness the cultural event.
Monday's event was coordinated by teacher Sally Ann Marks, who was attired in her Garifuna colours, yellow, black and white.