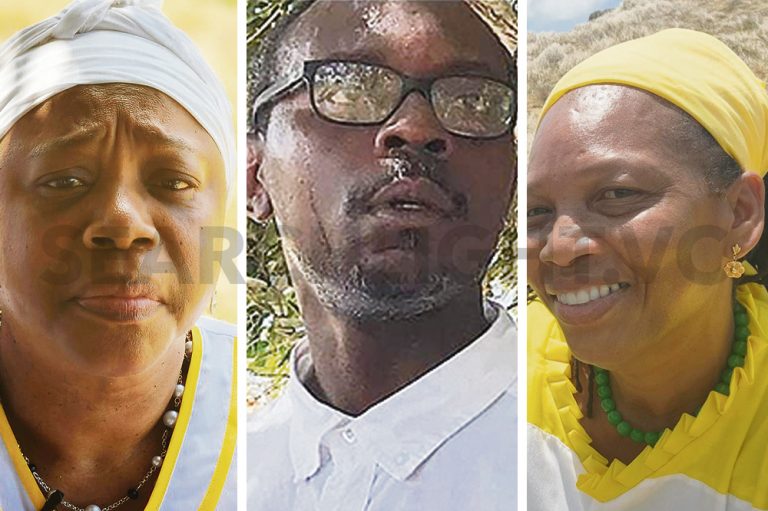 Emotions run high as Garifuna visit sacred island Baliceaux (+video)
by Jada Chambers
Waves of emotion exploded on Baliceaux as Garifuna descendents set foot on the island to honour their ancestors.
On Sunday, March 13, 61 voyagers journeyed on a pilgrimage to Baliceaux to pay homage to their ancestors. However, the pilgrimage took an overwhelming turn when a few were brought to their knees after being arrested by a 'dark spirit' for wearing black pieces of clothing.
Others were sinking in sorrow as they reflected on what their ancestors had to endure, and the rest, experiencing comfort and peace having walked the lands their ancestors trod.
Belizean Eleanor Castillo-Bullock was one of the voyagers who was brought to tears even before arriving on the island. She explained to SEARCHLIGHT that it was her first time making the pilgrimage and why it was so heartbreaking to be on the the uninhabited island.
"I've never been here. I've only heard about Baliceaux. I've only been told about Baliceaux, that this is where our ancestors were taken in 1796. They were rounded [up] in Yurumein. Over 5000 Garinagu children, fathers [and] mothers were brought to this land. They were brought to this land … and …when the British came back to pick them up, it was less than 2000 that were taken from here. They took the ones who survived, and put them back on the ship, and you know where they landed? Roatan, Honduras. That is why we get emotional because those were our ancestors that survived this barren land with no food, the pilgrim recounted.
" They were brought here with no food, no water; [they] just threw them on this barren land called Baliceaux.
"Castillo-Bullock continued that the original Garinagu is really from Yurumein, also known as St Vincent and the Grenadines, and that is where the Garifuna truly belong.
"We don't really belong in Belize, we don't really belong in Nicaragua, Guatemala, Honduras. We belong right here; but no, we were taken away from our land and we are here to come give homage to our ancestors … we are so grateful to be here. Like brothers and sisters, we are here today to come pay homage to our ancestors who died, who died on this land called Baliceaux."
President of the International Garifuna Council, Trevor Palacio was one of the persons who was overcome emotionally on the boat as it made its way to the island.
He tossed about until his companions removed his black belt from his waist.
On Baliceaux, Palacio gave an empowering speech on becoming a man.
"The only reason why the British could not defeat us is the master strategy of togetherness … that is the message to all of us, as I get myself together- because there's a lot of healing that I need to do, okay- I have a lot of ways of thinking that I just need to eliminate," Palacio said as he spoke at about the
mid-point of the formal ceremony.
" I'm 45 years old but my grandfather told me, 'today, you became a man.' We went to every man on the boat and said to you, you are a soldier, you are a warrior. To the men, you are a warrior, we are warriors, and our queens, the most fierce of them all, don't mess with the queen Garifuna, Don't mess with her…"
He reminded the Garinagu men that they are the original man and with that title, they are tasked with heavy responsibilities.
"…you are the one with the original responsibility, with not only bringing Garinagu together but humanity. We are on the island Baliceaux for the sake of humanity. Oh God what a task to ask of me, to ask of you, to ask of us; what a task, but God's question to you is this and our ancestors question to you … is this, 'would you embrace the challenge? Would you be bold enough to move to Arizona? Would you be bold enough to move to Mississippi? Would you be bold enough to move to California? Would you be bold enough to remove yourself from complacency,'" questioned Palacio, who is based in the USA.
President of the Garifuna International Indigenous Film Festival, Freda Sideroff spoke with SEARCHLIGHT on having a steadfast and triumphant mentality going forward.
"To be here means that still we rise. Like in the words of Maya Angelou, here are my ancestors present, and still like dust our ancestors are alive and present in each of us … and if not for the grace of God, we wouldn't be here.
The language of the Garifuna is alive and well. If not careful, it too might perish. Our mission is to let the world know that a genocide took place here on the island of Baliceaux, and we have taken a pilgrimage back to our homeland, the essence and the light that is our ancestors continue to live, and we are here that we have been guided back that we have been guided home to open arms and embraces."
Sideroff said that the Garifuna culture is one that ought to be promoted and embraced.
"The bones of our ancestors are littered upon the island of Baliceaux, and justice is due and deserving to our Garifuna people. Let's preserve Garifuna. Let's speak Garifuna. Let's lift Garifuna. As brothers and sisters, we must unite for the cause of love and in the name of our beloved Sovereign King, Joseph Chatoyer … and let's take the time for moments of remembrance that never again shall such evil occur; but out of the intent for evil, we are resilient, we are resilient, we are resilient, and here we are, here we are."