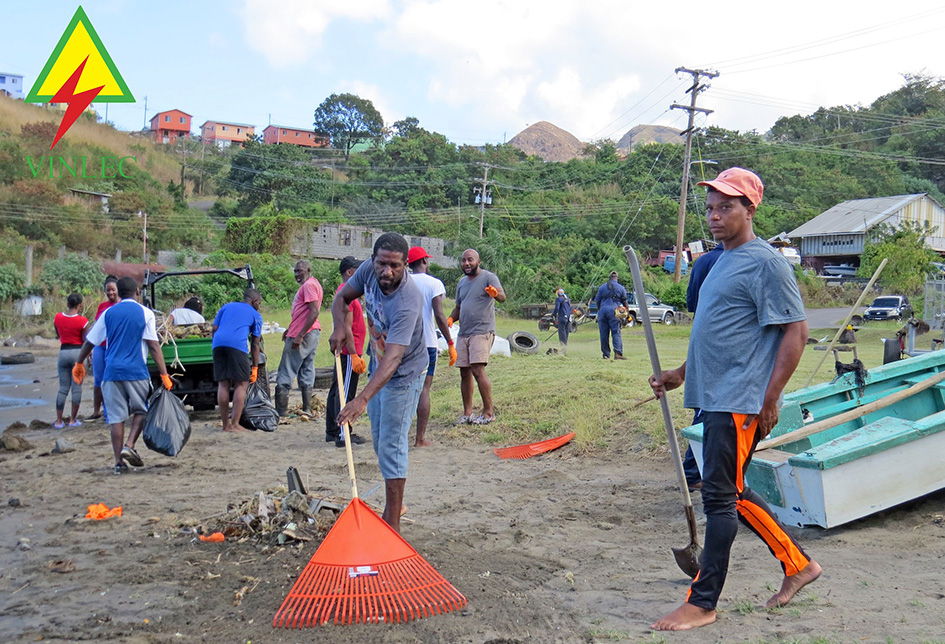 VINLEC Sports and Social Club clean up Lowmans Bay Beach
The VINLEC Sports and Social Club initiated its community service plans for 2023 with a beach cleanup at Lowmans Bay last Saturday, March, 4.
Club members, alongside other staff from the Lowmans Bay power plant of the St Vincent and the Grenadines Electricity Services Ltd (VINLEC) worked to tidy the bay and surrounding areas where they observed debris that had washed up on the beach, a release from the power company states.
The deposits of debris was particularly noticeable at a section spanning the river mouth and a nearby beach bar.
The club's Community Service Director, Alyssa-Ann Laborde said "we saw trash, we saw debris, we saw parts of wild life, we saw evidence that action happens here … so we are doing our part and making sure that future generations can enjoy the Lowmans Bay Beach".
Residents openly expressed their gratitude to the sports and social club for the clean up initiative. Those residing along the area said they usually clean a portion of the beach closest to their homes and were happy that the entire beach is now cleaned. Some residents also joined Saturday's beach clean up and helped remove old, abandoned tyres that lay buried in the sand.
President of the VINLEC Sports and Social Club, Kristidis Wyllie expressed the desire to see all social or sports clubs regularly include community service in their activities as a means of giving back meaningfully to the society.
The fuel reception point for refuelling the Lowmans Bay Power Plant is located at the bay. The area is also home to other industrial operations carried out in close proximity to families whose homes are located along the beach and surrounding areas.
The Lowmans Bay Power Plant regularly engages in the clearing of the river mouth with heavy equipment.
This was recently done at the end of February.