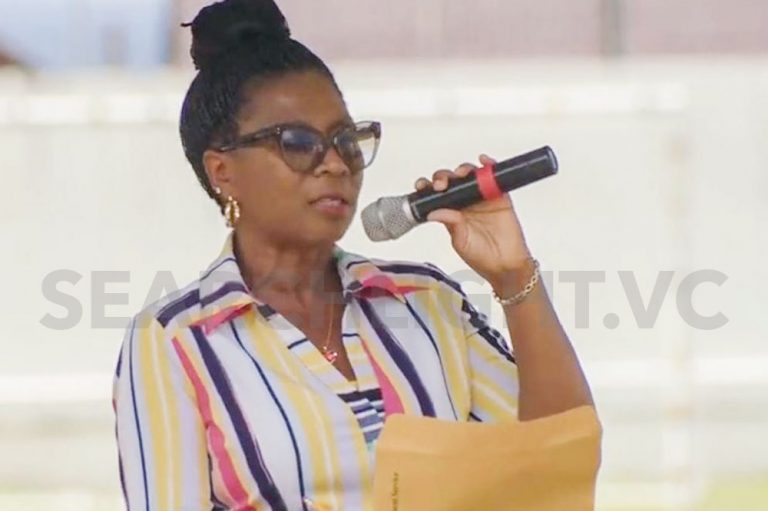 Garifuna Folk Festival kicks off National Heritage Month Celebrations (+Video)
Senior education officer, Aldia Gumbs-Dyer has applauded the Garifuna Heritage Foundation for the National Schools' Garifuna Folk Festival noting that activities like these teach students to become part of the solution in St Vincent and the Grenadines (SVG).
Gumbs-Dyer made the statement on Friday, March 3 at the 8th National Schools' Garifuna Folk Festival held at the Victoria Park.
The Festival marked the first official activity in the month of celebrations where primary and secondary schools island-wide unite to perform presentations in celebration of National Heroes and Heritage Month.
Gumbs-Dyer who represented the Ministry of Education said "After two years, the Ministry of Education and National Reconciliation stands again with the Garifuna Heritage Foundation to present the 8th national Schools' Garifuna Folk Festival. Indeed, we are pleased to be here because this activity is important for various reasons. When students take part in activities like this one, they are able to reinforce the concepts that they are learning in the classroom in enjoyable and exciting ways, and they are able to build new skills. "
She said these concepts include cultural preservation and the meaning of heritage and tradition.
"In fact, when they themselves engage in the research, they are able to do some reinforcements. So in short, children get the opportunity to see subjects like History and Social Studies in functional and practical ways.
"As a result, they can take part in conservations in a smart way and make their own contribution to issues that affect our community and have been affecting our community historically. Naturally when this happens, they become part of the solution to various issues."
Gumbs-Dyer added that new research is showing that tourists are not coming to St. Vincent's shores any more just for sun, sand and sea.
"Instead, they are coming to experience our culture and we are hoping that our students can learn more of it so they can recognise that culture is just not important because it makes us unique, but it is a valuable resource that can be used for future employment; so I encourage you to continue to be engaged in this kind of activity, to have fun and to learn as you do so," she continued.
President of the Garifuna Heritage Foundation David "Darkie" Williams, also spoke of the importance of keeping Heritage alive in SVG.
"This is becoming a tradition of Heritage Month. This is the 8th occasion on which we are making this presentation to our beloved land Yurumein as the Garifuna people called it, or as St Vincent as the colonisers called it. You, children, teenagers … teachers, you are part of the making of history. Since 2002, St Vincent celebrates the month of march as National Heroes and Heritage month and every time … this month comes around, for a substantial part for these celebrations, the Garifuna Heritage Foundation has been upfront in promoting this culture, in promoting the legacy of Chatoyer and the Garifuna, and doing it not only by things such as this gathering here today but more importantly, educating Vincentians about the importance of the month, National Heroes Month, about the importance of history and making history help us to forge a way forward. "
Williams urged the students that when they are out of school and grow to become parents that they continue to teach their offsprings the importance of using history, and using traditions to build a strong nation.
"The history of Garifuna is a very colourful history, it is a very potent history and it instils in us that sense of nations, that sense of nationality, and I hope that as deeply as this culture, as this Garifuna Heritage- as deeply as it has affected how I approach my life- I hope some of this will rub off on you as you grow older. With that, I will like to declare the 8th annual Garifuna Schools' Folk Festival and hope that in preparing these performances that you are also learning the history of Garifuna and in looking at these performances you are learning to appreciate the history of Garifuna."
Dance Development Officer and coordinator of the Festival, Claydonna Peters who also address the gathering advised students to keep the heritage of the St Vincent and the Grenadines alive.
"It is indeed great to be back after a three year break. I am pleased that we have the opportunity to display and embrace aspects of our cultural heritage through dance, song, poetry, music, and choral speech.
" I am especially pleased with the number of students here today that are participating in this event. I implore you to to continue to learn our cultural heritage and to take it one step further by sharing with members of the community." A range of activities have been organised to celebrate National Heroes and Heritage Month, some of which will be held at the community level.