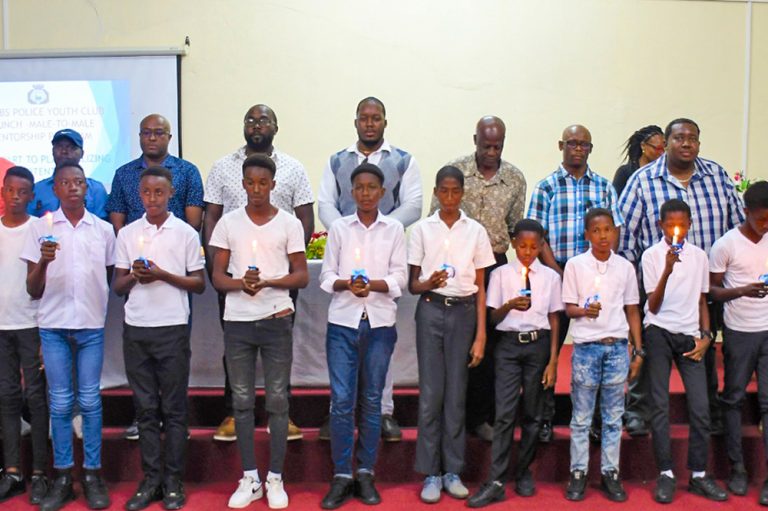 1500 strong, Police Youth Clubs need public support
An initiative started by Inspector of Police Arden Tannis in 2002, when he took under his wing, five boys who had run afoul of the law, has grown today into the Police Youth Club with an active membership of 1500.
The National coordinator of the Police Youth Clubs (PYC) is sergeant Stephen Billy and he is encouraging members of the public to support the nation's 28 clubs which are located throughout St Vincent and the Grenadines.
Billy made the appeal on March 2, while speaking on the "Cop Chat" programme on We FM 99.9.
"We face many challenges but it can be done better once persons, society understand…you got to get in the discussion, you have to play your part.
"Don't just criticize. It is not a spectator sport," sergeant Billy said.
He said that when the Club was started, the idea was for the first five boys to give community service to bring about changes in their lives, but that did not work very well.
He said inspector Tannis then introduced the boys to different programmes and got to the root of the issues affecting the young men. He found out some couldn't read, some didn't have basic necessities like food, shoes and school supplies.
Sergeant Billy said inspector Tannis helped to meet the basic needs of the boys and introduced activities like Football, Cricket, and cleaning duties around the community. In time, the boys started to show changes in behaviour, which caused some other parents in the community to ask if their children could become involved.
He said that now, with over 5000 registered members and more persons registering, they are calling on people who can help, not just financially, but in any way possible to come forward.
Sergeant Billy told SEARCHLIGHT on March 6 that of the 5000 registered members, an estimated 1500 are active.
The clubs cater to children eight years old or older and sergeant Billy said when members reach 18, they are considered associate members and most of the time become involved in a leadership role to help assist, manage and coordinate.
"They always hang around and give back how they can. The youth club is a family," said sergeant Billy who added that it is about nurturing the nation's most valuable resources and producing law abiding, productive, wholesome, law abiding persons.
The clubs boast of numerous programmes that are geared towards developing youths to be good citizens and while sergeant Billy said that some people are reluctant to give financial sponsorship, investments of time, resources and expertise are also welcomed as the PYC touches all aspects of a child's life and development by using an holistic approach.
The PYC also offers after-school programmes, with each club encouraged to formulate programmes like craft and lectures specifically tailored to the specific needs of the children in the area where the club is functioning.
"…Because different areas have different needs," sergeant Billy said while noting that the work never ends as, "it's consistent and continuous" with some children even looking for the coordinators at home when they have a problem.
The national coordinator also noted that the programme has seen that lack of proper parental guidance is often a factor in the lives of children who stray.
He said that single parent homes, with mostly mothers, are creating at risk youths as they face many challenges, so the PYC is big on male-to-male mentoring.
"If we do not discipline, mould, teach our children to be law abiding, productive citizens, when they actually do take over, it will be chaos.
Deputy coordinator corporal Decon Chewitt said persons should look out for the PYC's netball competition starting on March 12. This year will also see the PYC's second annual soccer competition.
These events add to the PYC's community outreach programmes in which they distribute food baskets, carry out community cleaning, painting of schools, beautification of road sides and clinics, tie dyeing projects and public speaking competitions.
There will also be a Summer programme in which members will be urged to be creative after which their projects would be put on display.