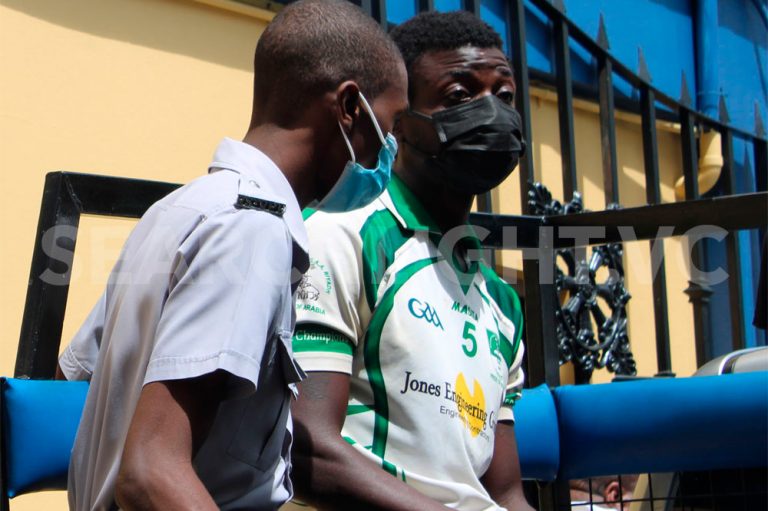 From the Courts, News
March 3, 2023
Youngster who escaped from the police sent for psychiatric observation
Javill 'Ben 10' Williams was given little wriggle room when he left the Kingstown Magistrate's Court on Wednesday, March 1 charged with escaping police custody.
Williams, 25 years old, rose to social media fame this week after he bolted from the police in the yard of the court on Monday, February 27 shortly after being sentenced by senior magistrate, Rickie Burnett on several charges.
Video footage captured on SEARCHLIGHT's CCTV camera shows the moment when Williams, escorted by two police officers to a police transport vehicle, made a dash in the direction of Kingstown Park, leaving his slippers and a trail of dust behind.
He was apprehended shortly afterwards in the area of Kingstown Park and taken back before magistrate Burnett two days later.
His behaviour in court on Wednesday while standing in the dock was a cause of concern for the senior magistrate. Williams was noted to be behaving erratically and was rambling.
The senior magistrate ordered that Williams be remanded for observation at the Mental Health and Rehabilitation Centre as the convict was deemed not fit to enter a plea due to this behaviour.
A psychiatric report on Williams is to be presented to the court when the matter resumes on March 21, 2023.
Williams, who left the court in handcuffs, is currently serving a custodial sentence of 12 months for theft, burglary and damage to property.